June 11, 2020
Three K-State Libraries employees recognized for excellence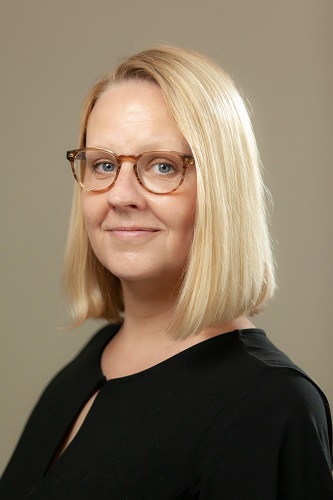 This spring, K-State Libraries honored three employees — Kendra Spahr, Cindy Harris and Kathy Coleman — for outstanding contributions.
Spahr, academic services librarian, received the Brice G. Hobrock Distinguished Faculty Award. Annually, the award recognizes outstanding librarianship and superior accomplishments among the K-State Libraries faculty.
Spahr has been the co-leader of the Developing Scholars Research Seminar since fall 2017. One of her nominators said, "Kendra's individual work as a McNair Scholars librarian as well as with MAPS Bridges programs makes such a difference to the underrepresented and first-gen scholars who are part of these programs . . . The market research knowledge she's instilled in nearly 200 students each semester has helped them to succeed in the classroom as well as with startup ventures and internships with small businesses."
This year, Coleman, interlibrary services coordinator, received the Dean's Award. The Dean's Award recognizes a nontenure track professional's contributions to K-State Libraries in the previous two academic years.
One of Coleman's nominators said, "Kathy has provided excellent leadership for the interlibrary loan services team. She keeps everything running like clockwork, even with an increased workload. She has organized faculty delivery services of ILL materials to four academic departments on campus and also initiated a service to provide Optical Character Recognition of ILL articles received from other libraries."
Harris, library assistant III, was chosen as the Support Staff of the Year. This award recognizes a support staff employee's special contributions, dedication to daily tasks and ability to work successfully across the organization.
According to her nominator, "Cindy has played a vital role in protecting the Special Collections materials. She spent six months cleaning moldy materials and handling emergencies such as water leaks and termite infestations — often in a cramped office space alone, as most staff were located elsewhere. Her grit and determination to meet these challenges head-on has been inspiring to everyone and shows a dedication to excellence where many would falter."
Each winner receives a monetary prize, and their names are added to award plaques in Hale Library. The Brice G. Hobrock Distinguished Faculty Award was established by the Friends of K-State Libraries to honor Dean Emeritus Hobrock upon his retirement in 2004. Both the Hobrock Award and the Support Staff of the Year Award are funded through the Friends of the K-State Libraries.