January 17, 2013
Blanks joins K-State Salina's unmanned aircraft systems program
Submitted by Communications and Marketing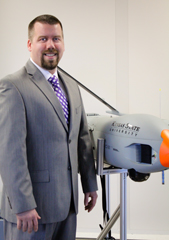 Mark Blanks is the new program manager of Kansas State University Salina's unmanned aircraft systems program.
Blanks is charged with coordinating the nonacademic aspects of the unmanned aircraft systems integration program. He will help establish the strategic program direction, administer the program and develop new business opportunities.
"We're happy to have Mark on board. His experience and industry connections will bring new opportunities to the program and its continuing focus of safely integrating unmanned aircraft into the National Airspace System," said Kurt Barnhart, aviation department head and executive director of the university's Applied Aviation Research Center.
Blanks comes to K-State Salina from Middle Tennessee State University where he served as interim director and flight operations manager for the unmanned aircraft systems program and an assistant professor of aerospace maintenance management. He has also worked for Smyrna Air Center as an ADS-B -- or automatic dependent surveillance-broadcast -- project engineer, Jabiru USA Sport Aircraft as a light sport aircraft certification director, and Precision Aviation as general manager and lead airframe and powerplant technician.
His recent research has focused on developing airworthiness certification standards and regulations for unmanned aircraft, unmanned aircraft systems/unmanned ground vehicle interoperability, unmanned aircraft use in agriculture and aerial surveying.
Blanks has a master's in aviation systems from the University of Tennessee Space Institute and a bachelor's in aerospace maintenance management from Middle Tennessee State University. He is an airframe and powerplant technician with inspection authorization and has a private pilot license with an instrument rating.
About the university's unmanned aircraft systems program:
Kansas State University Salina's unmanned aircraft systems bachelor's degree program, one of the first in the country, uses a hands-on approach for learning and attaining the skills needed to safely operate and manage unmanned aircraft systems.
K-State Salina's proximity to accessible restricted airspace creates an ideal setting for learning to fly unmanned aircraft. The Smoky Hills Weapons Range gives students the ability to gain experience in non-simulated unmanned aircraft system flight. The university also has authorization to fly unmanned aircraft in the national airspace system.
K-State Salina's unmanned aircraft systems program office is home to the Unmanned Aircraft Systems Technology Evaluation Center that evaluates existing unmanned aircraft systems technology and platforms for their suitability in disaster response scenarios and trains operators/maintainers. The program office collaborates with military and civilian organizations to focus on developing unmanned flight in the nation's airspace and training pilots and operators of unmanned aircraft systems.