May 14, 2020
National Strategic Selling Institute announces spring 2020 award recipients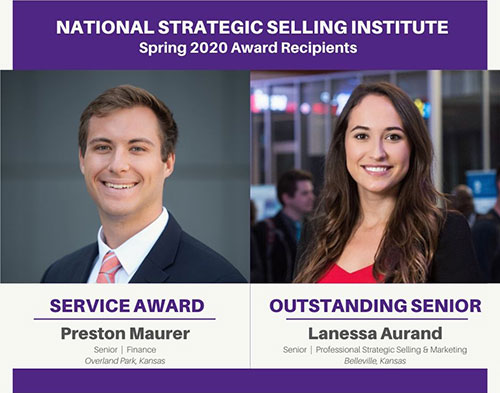 The National Strategic Selling Institute recognizes two sales students each academic year to be recipients of the Outstanding Senior and Service Award.
These awards go to two students that exemplify the hard-working and talented students in the sales program as determined by the faculty. This year, the two students to be recognized are Lanessa Aurand, senior in professional strategic selling and marketing from Belleville, and Preston Maurer, senior in finance from Overland Park. Both students will receive a trophy and a $1,000 student merit award for their recognition.
Aurand is the recipient of the Outstanding Senior Award. This award recognizes a student in high academic standing who is actively involved with the National Strategic Selling Institute. Aurand has been involved in the institute since her freshman year when she competed at her first sales competition on the K-State Sales Team. Her success didn't stop there, as she has been active on the K-State Sales team all four years of college competing at numerous on-campus and external sales competitions. She has also been a member of the Ambassador organization and worked as a teaching assistant. After graduation, Aurand will be going to work for Hormel Foods as a foodservice sales representative.
Maurer is the recipient of the Service Award. This award is given to a student who always goes above and beyond to help volunteer at events and make a positive impact on the National Strategic Selling Institute. Maurer is a true advocate for the NSSI by helping build the program's brand on campus. He is an active member of Sales Ambassadors, a teaching assistant, and a student coach for the K-State Sales Team. You can always find him there to lend a helping hand and is an individual who understands the true meaning of doing something out of the goodness of his heart because he cares about developing younger sales professionals. After graduation, Maurer will be going to work for MetLife as a group benefits account executive.
"Lanessa Aurand and Preston Maurer are so deserving of these awards," said Dawn Deeter, director of the National Strategic Selling Institute. "They are accomplished, hard-working, and humble. They care about their fellow students and our program. It truly has been a pleasure to watch them develop into top-notch sales professionals."
The National Strategic Selling Institute is housed in the College of Business Administration, which has been named one of the top sales programs in the country for nine straight years by the Sales Education Foundation. In fall 2018, Kansas State became just the 19th university in the U.S. to offer a major in sales. Students can also earn a certificate in professional strategic selling, which is open to all majors at the university. The professional strategic selling program introduces students to the fundamentals of sales and through the innovative curriculum and sales labs allows students to develop the skills needed to be successful.
For more information on the National Strategic Selling Institute, please contact kstatesalesprogram@k-state.edu.