January 3, 2013
Five familiar faces in Phoenix cheering for K-State: Scott Pasmore
Submitted by Communications and Marketing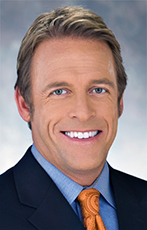 For thousands of Arizonans every morning, Scott Pasmore is a friendly face and a source on what's happening in Greater Phoenix and across the state.
Pasmore, anchor of the weekday edition of "Good Morning! Arizona" on 3TV, attended Kansas State University, where he was a member of Sigma Nu fraternity and ran track his freshman year, lettering in the sport. The university was also where he got his start in broadcast journalism.
"I took a journalism class and I was able to report some stories for the local cable channel in Manhattan," Pasmore said. "I loved it and that was it; I knew I'd found my thing."
After graduating in 1983 with a bachelor's degree in radio and television, Pasmore began working for a news network in Kirksville, Mo., later transitioning to Palm Springs, Calif., and Albuquerque, N.M. He has received an Emmy award for his coverage of the Los Angeles riots and several local awards for his reporting. He has been at 3TV since 1989.
Pasmore said his time at K-State and in Manhattan taught him how to appreciate what he has and what he has worked for throughout his career. It also influenced him personally, channeling the small-town warmth and friendliness he experienced to his audience and friends and family.
Moreover, it ignited a passion for K-State that Pasmore's co-workers — and viewers — know well.
"Everybody who watches 'Good Morning! Arizona' knows that I went to school at K-State," Pasmore said. "I talk about purple and about the Wildcats, especially with the football success this year. I've gotten my producers to show highlights from the games."
Pasmore's Twitter followers see pictures of his purple tie-of-the-day, his dress shoes with purple shoestrings, and of the show's morning team dressed in purple — which was tweeted to K-State President Kirk Schulz.
"It's to the point where if my co-workers see someone wearing purple, they'll say, 'Look, Scott, they're wearing K-State for you,'" Pasmore said. "I think it's hysterical that I've gotten my co-workers talking about K-State more than their alma maters."
On Jan. 3 the K-State Wildcats will prepare to play the final game of their 11-win, Big 12 championship season in the Tostitos Fiesta Bowl. Pasmore again will wear purple as he readies for an interview with the K-State president and to cheer on the university where he got his professional start.
"I'm really proud of K-State and what they've done on the field and off the field," Pasmore said. "I can't wait for everybody to see this sea of purple in Arizona and the energy that comes with it. It's going to be great!"