January 3, 2013
Five familiar faces in Phoenix cheering for K-State: Dan Manucci
Submitted by Communications and Marketing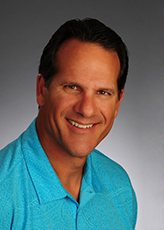 Members of a football team have a permanent bond, even players whose touchdowns happened in different generations and whose season's couldn't have been much different.
When Dan Manucci played for the Kansas State University Wildcats in 1977 and 1978, the team won a total of six games. This year's Fiesta Bowl-bound team will head to Phoenix with 11 wins.
Before graduating from K-State and being drafted by the Buffalo Bills, Manucci led the Big 8 Conference in passing his senior year.
"We went through some tough years," Manucci said. "It's so great to see what Coach Bill Snyder has been able to do."
Manucci first visited K-State on a recruiting trip and went to a basketball game. He said his first impression of the campus was the fans' spirit.
"I saw how passionate they were," Manucci said. "I saw that growing up in Tempe, Ariz., but not at that level. It was refreshing to be part of it."
After graduating and playing for the Bills and other professional football teams, Manucci settled into an old hobby he had at K-State — broadcasting. Manucci had worked for the campus radio station doing early morning updates. Now, in Phoenix, he co-hosts a daily radio sports talk show.
"We're a little off the beaten track," he said. "We mix in a lot of pop culture."
Manucci said K-State prepared him for his careers in both football and radio through the encouragement of faculty and coaches. The campus was progressive and made students want to get involved, and Manucci said he's proud to see that continue today.
"The players stay out of trouble, and the graduation rate is high," he said. "We alums are so proud of the program, on and off the field."
As Manucci prepares to cheer on the players who wear the purple as proudly as he did years ago, he remembers a time when he felt a similar sense of excitement.
"The final game my senior year, we beat the University of Kansas, and the fans tore the goalposts down," he said. "It was a beautiful day in Manhattan, Kan."