April 28, 2020
Microbiome virtual workshop April 30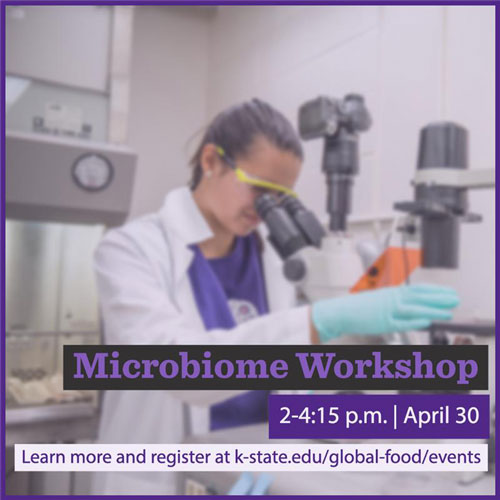 The Global Food Systems Initiative will host an interactive virtual workshop on microbiome research at K-State from 2-4:15 p.m. Thursday, April 30, via Zoom.
This workshop is an opportunity for faculty and students to learn about and discuss the broadly defined area of the microbiome. Discussions and presentations will focus on areas such as methods development, water, and soil and animal research — all relating to the microbiome. Attendees will learn about what is happening in this area of study at K-State and find out where continued discussion might be beneficial.
Douglas Marthlaer from Illumia Inc., will kick off the workshop with a keynote presentation on "Next Generation Sequencing Applications in Microbiology." A question and answer session will follow the presentation.
Additional presentations and discussions will be led by Chris Little, plant pathology; Matthew Kirk, geology; Sonny Lee, biology; and Megan Niederwerder and Tara Gaire, both in veterinary medicine.
All faculty and staff are invited and encouraged to register to attend this interdisciplinary workshop by noon April 30. After registering, you will receive a confirmation email containing information about joining the meeting.
View a full agenda and find out more on the Global Foods Systems website.