December 18, 2012
A letter from A.D. John Currie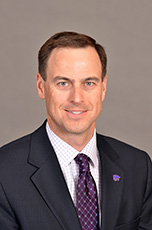 Good morning, K-State Nation!
It's been a wild couple of weeks since I last wrote to you!

I recently

attended my sixth banquet/award ceremony in the last 11 days, (not counting the K-State volleyball banquet, which I hated to miss and sort of attended in the form of a videotaped address) but I never get tired of seeing K-Staters recognized on the big stage.
The awards odyssey all began a week ago when we traveled to New York to see Mark Simoneau honored at the National Football Foundation dinner for his induction into the College Football Hall of Fame. We also were able to watch a Wildcat basketball victory over George Washington at a nearby restaurant on 42nd Street before returning to MHK for 24 hours, when our family watched Collin Klein on TV at the Home Depot CFB Awards show in Orlando, Fla.
Friday

saw an early morning flight on American Eagle out of MHK connecting to Baltimore for the very special Johnny Unitas Golden Arm Award ceremony, where Collin gave a tremendous acceptance speech. Attendees and speakers included Coach Snyder, Colts legends and Unitas' teammates Raymond Berry, Jimmy Orr, Len Moore and Tom Matte who joined John Unitas Jr. and other family members for the evening. Click to watch K-State videographer Preston Koerner's highlights. I even was able to keep up with Collin's father, Doug, on a four-mile jog through Baltimore's harbor area that afternoon.
Saturday

was the Heisman presentation in New York City followed by a transcontinental American Airlines flight to California for

Sunday

night's Lott IMPACT Trophy presentation, where Arthur Brown was honored as one of four finalists for that prestigious award before a live FOX television audience. Condelezza Rice gave an inspirational keynote address, and Arthur did a great job in his FOX interviews and comments. Watching the pride on the faces of his parents, Arthur Sr. and Lelonnie, as Arthur joined Notre Dame's Manti T'eo and Chase Thomas of Stanford on the stage made the long trip completely worthwhile.
After spending

Monday

in the office it was up and back to Chicago on

Tuesday

(again out of MHK on American Eagle) where President Schulz received the CASE Chief Executive Leadership award in front of a packed banquet hall including K-State Alumni CEO Amy Button Renz and luncheon keynote speaker Mike Eruzione. Both athletically and academically K-State is surging toward the goal of becoming a Top 50 public research university by 2025!
Football honors keep rolling in
Both the Coaches and Associated Press All-Big 12 football teams have been announced as a school record 20 Wildcats earned All-Big 12 honors this season. Coach Snyder was named the Chuck Neinas Big 12 Coach of the Year, Collin Klein Big 12 Offensive Player of the Year, Arthur Brown Big 12 Defensive Player of the Year and Meshak Williams Big 12 Defensive Lineman of the Year. Click for the entire release and list of football players who earned all-league honors. Collin, Arthur and Ty Zimmerman have also earned All-America distinctions this week from various outlets and organizations. We are so proud of our guys for all they have accomplished this season and excited to see their hard work pay off both as a team and with individual honors and accolades.
Looking back at the Texas game: National impact for K-State
Obviously clinching the Big 12 Championship at home on

Dec. 1

with a decisive victory over the No. 18 Longhorns was an extremely special moment for the worldwide K-State Nation. Personally I felt that the energy and passion of our crowd was the very best I have experienced in my four years here and painted an incredible picture of Bill Snyder Family Stadium for the national TV audience. Did you see the awesome ABC TV shots from the overhead camera?
The K-State-Texas game also gave us an interesting snapshot of the national appetite for Big 12 football as well as some of the pros and cons of conference championship games.
Only the SEC Championship game, with its dedicated late afternoon time slot, outrated the K-State-Texas game. Our television rating of 3.3 beat the direct head-to-head competition of the Big 10 Championship game between Nebraska and Wisconsin (2.9 rating). The primetime

Friday

evening Pac-12 Championship between Stanford and UCLA scored a 3.0 rating while the Florida State-Georgia Tech ACC Championship rated a 1.2.
The Big Red fans of Wisconsin and Nebraska combined for a total announced attendance of 41,260 in Indianapolis' Lucas Oil Stadium, while the Pac-12 announced 31,622 for their championship game at Stanford's on-campus stadium.
Of course here at Bill Snyder Family Stadium a completely sold-out crowd of 50,912 created an incredible scene for the national audience. The image of Willie on the press box as the fog rolled in is a lifetime one for our fans as well as the family celebration and wonderful moment of our captains hoisting the Big 12 Championship trophy high over their heads.
Finally let's give a round of applause to our fan experience and operations staffs for their planning and hustle to set up the postgame trophy presentation stage and perimeter. Standing on that stage with Coach Snyder, President Schulz and our captains and watching our team and fans celebrate together was yet another lifetime memory.
K-State getting ready to paint the Tostitos Fiesta Bowl purple!
Once again K-State fans have set the standard for bowl support. Thanks to your loyalty we sold more than 22,500 tickets out of our ticket office. For your convenience we obtained a few additional tickets from Oregon that are now on sale through

www.kstatesports.com

as well. Thanks to the support of K-State's award winning Alumni Association, the KSU Foundation and the president's office, a great slate of activities is being planned, including the annual pep rally, this year to be held in Chase Field on

Jan. 2, 2013

. Stay tuned to

www.kstatesports.com

for more information.
Big basketball games on tap
This week the men are home against Texas Southern in Bramlage before heading to the Sprint Center in Kansas City for

Saturday

's primetime showdown with the No. 5 Florida Gators. Our women's team meanwhile will head to Las Vegas for a three-game tournament, including their

Wednesday

opening match up against Texas A&M.
This past week has been one to remember for our men's golf program as former Wildcat Aaron Watkins earned his PGA Tour card for 2013 following a strong finish at a qualifying event this past week. Aaron joins fellow Wildcat Robert Streb as K-Staters who have earned their PGA cards for 2013. Also, current golfer Ben Juffer was named the 2012 Player of the Year by the Kansas Golf Association following a terrific summer and fall on the course.
We salute all the K-State students who have graduated this past week, including 17 K-State student athletes who finished their degrees this semester.

Last Friday

night Senior Associate Athletic Directors Jill Shields and Reid Sigmon recognized these student athletes and their families at our graduation reception and ring ceremony.
Thank so much for all your support of the Wildcats and K-State Athletics. Please continue to enjoy a safe holiday season!
Go Cats!

John Currie