December 6, 2012
Military, College of Education join forces for students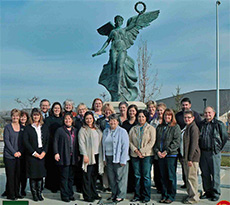 Ties between Fort Riley and the College of Education grew even stronger after two events were conducted on post for faculty and preservice teachers this weekend.
Sandy Risberg, military spouse and instructor in the college's department of curriculum and instruction, arranged a tour of the installation for 22 faculty, staff and administrators on Friday, Nov. 29. On Sunday, Dec. 2, Risberg hosted an event at her historic home for Block One preservice teachers and shared a rich military tradition with an education twist.
Friday's tour began with lunch in a dining facility, or mess hall. The group then boarded a military bus and visited a model home for enlisted soldiers, a community center, Ware Elementary School and a middle school teen program facility. Col. William J. Clark, garrison commander; Nikki Crisman, family programs director; and Sonya Douglas, child youth and school services coordinator, briefed the group about K-12 programming. The day concluded with a tour of the home of Fort Riley's commanding general, Maj. Gen. William C. Mayville Jr., led by his wife, Shand.
"The opportunity to tour Fort Riley was a definite learning experience," said Debbie Mercer, dean of the College of Education. "Sandy did a phenomenal job analyzing our needs and planning tour stops that deepened our knowledge and understanding of the specific needs of military-connected children and families. This experience also provided insights into expanding our partnership since serving the military is a critical component of our K-State 2025 goals."
At Ware Elementary, the group was greeted by the robust sound of five members of the Fort Riley 1st Infantry Division Band playing holiday favorites. There, Deb Gustafson, principal and a K-State alum, shared detailed information concerning teacher and student turnover rates.
"We can't let the mobility of the military, the war and the deployments hold our children's educations hostage," Gustafson said. "We must have very strong educational programs in place to provide the services needed to serve these students. And part of that is the new common core curriculum."
Because of the military's mobile lifestyle, educators believe common core standards will be particularly advantageous for military-connected children because it will provide uniformity in the 48 states that adopted common core curriculums in English language arts and math. Four K-State faculty members – two from the College of Education – are involved in common core discussions at the national level. The Kansas State Board of Education adopted the standards in October 2012, and they will be fully implemented in 2014.
On Sunday evening, Risberg hosted an end-of-year party at her home on post for preservice teachers who celebrated the successful completion of Block One courses, a cohort consisting of three classes that build the foundational skills of teaching.
During the event, Risberg read "A Soldier's Night Before Christmas" to the group and shared teaching advice. "If you are teaching military students or even if you don't have military children in your class, reading a book like this introduces students to a world they may or may not have contact with," she said. "Please consider planning an outreach class project to service members who are deployed because they are so powerful for the students and soldiers."
Continuing to share and teach, Risberg and neighbor Shand Mayville shared a time-honored military tradition of a cake-cutting ceremony while Risberg read a script modified for education.
Risberg presented a cake with the Powercat and Department of Army logo and asked the oldest teacher and youngest preservice teacher in the room to step forward, hold the saber and cut the cake. Risberg explained the ceremony symbolized the passing of wisdom and knowledge.
Another tour of the installation is being planned for the spring semester.