June 30, 2011
English professor discusses radical children's literature at national conference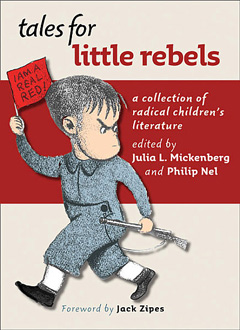 Philip Nel, professor of English, and Julia Mickenberg, associate professor of American studies at the University of Texas at Austin, gave a keynote address on "Radical Children's Literature Now!" at the Children's Literature Association's Annual Conference, held at Hollins University in Roanoke, Va. The address, given on June 25, was this year's Francelia Butler Lecture, named for a scholar who pioneered the academic study of children's literature.
In their talk, Nel and Mickenberg addressed literature for younger children published in the last decade that encourages activism, exposes unjust uses of power and promotes social justice, environmental stewardship, and greater acceptance of differences. On his blog Nel has posted the bibliography of books discussed. The entire lecture will be archived at the Children's Literature Association's website.
Nel and Mickenberg are the co-editors of "Tales for Little Rebels: A Collection of Radical Children's Literature," a project supported by a Big 12 faculty fellowship.