Philip Nel
University distinguished professor of English
Director, graduate program in children's literature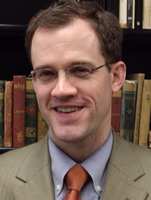 Philip Nel is the author of "The Annotated Cat: Under the Hats of Seuss and His Cats," published by Random House in 2007 on the 50th anniversary of "The Cat in the Hat." He also is co-editor, with Julia Mickenberg, of "Tales for Little Rebels: A Collection of Radical Children's Literature," published by NYU Press in 2008. The book was favorably reviewed by The New York Times Book Review.
In September 2012, the University Press of Mississippi published Nel's biography "Crockett Johnson and Ruth Krauss: How an Unlikely Couple Found Love, Dodged the FBI, and Transformed Children's Literature." Johnson and Krauss were two children's writers who were also married to each other. Johnson is best known as the author of "Harold and the Purple Crayon," and Krauss is best known for "A Hole Is to Dig," illustrated by Maurice Sendak, and "The Carrot Seed," illustrated by Johnson. The book is nominated for a 2013 Will Eisner Comic Industry Award -- the equivalent of an Academy Award in the comic book industry -- in the Best Educational/Academic Work category. In 2013, Fantagraphics published "The Complete Barnaby Vol. 1," the first of a five-volume series of Johnson's classic comic strip. Nel and Eric Reynolds serve as co-editor for these books, which will mark the first time that all 10 years of "Barnaby" have been collected in book form.
"Keywords for Children's Literature," co-edited by Nel and Lissa Paul, was published by NYU Press in 2011. In 49 original essays on topics ranging from aesthetics to young adult, an impressive multidisciplinary cast of scholars explores the vocabulary central to the study of children's literature.
Nel's "Dr. Seuss: American Icon," from Continuum Publishing in 2004, took a thoughtful look at the creator of the "Cat in the Hat." The book attracted considerable media attention, landing Nel on "CBS Sunday Morning" and NPR's "Talk of the Nation."
Nel's first book, "J.K. Rowling's Harry Potter Novels: A Reader's Guide," from Continuum Publishing in 2001, also resulted in extensive national publicity. Nel says Harry Potter is not only entertaining reading; it's literature. He wrote the reader's guide to encourage readers — parents, children, reading groups — to appreciate Rowling's literary merits.
Nel's work on Dr. Seuss, Harry Potter and radical children's literature have led to speaking engagements at such venues as Stanford University, Dartmouth, the Smithsonian Institution, the Austin Museum of Art, the University of California at San Diego, the University of Connecticut, Case-Western Reserve University, the University of Florida, the University of British Columbia in Vancouver and the University of Westminster in London.
Nel directs the Kansas State University English department's graduate program in children's literature. He created and teaches the popular course "Harry Potter's Library: J.K. Rowling, Texts and Contexts," and has taught courses on Dr. Seuss, 20th-century children's picture books, graphic novels and radical children's literature. Since June 2011, he has been editor of Routledge's Children's Literature and Culture series, succeeding founding editor Jack Zipes.
Nel received his bachelor's degree in English and psychology from University of Rochester and his master's degree and doctorate in English at Vanderbilt University. Before coming to Kansas State University in 2000, he taught at the College of Charleston in South Carolina.
His grants and awards include a Smithsonian Postdoctoral Fellowship, a National Endowment for the Humanities Summer Stipend, a Big 12 Faculty Fellowship, the Distinguished Graduate Faculty Award and the William L. Stamey Award for Teaching Excellence from Kansas State University's College of Arts and Sciences. His article "Dada Knows Best: Growing Up 'Surreal' with Dr. Seuss" won the Children's Literature Association's Article Award in 2001. He is also the author of "The Avant-Garde and American Postmodernity: Small Incisive Shocks," published by the University Press of Mississippi in 2002.
Nel can be reached at philnel@k-state.edu or 785-532-6716.
More information about him is also available at his home page.