November 30, 2012
A letter from A.D. John Currie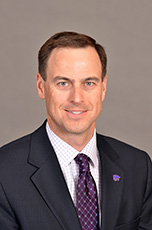 Good morning, Wildcat Nation.
Today is Worldwide K-State Purple Pride Day! K-Staters have always shown off their purple pride when filling the stands and traveling across the country. With much excitement surrounding a big weekend of action, the worldwide K-State family is joining together to wear purple today in support of the Wildcats. Whether it's to work, class or around town, we encourage fans to wear purple and share their photos of friends, family and co-workers in purple with us on our social media platforms including K-State Sports on Facebook and @kstatesports on Twitter.

Busy home slate this weekend
Both basketball teams are off to terrific starts and will be at home this weekend. Coach Patterson's 4-0 squad hosts Mississippi Valley State at 7 tonight in Bramlage Coliseum before Coach Weber and the 5-1 men's team welcome South Carolina Upstate at 1 p.m. Sunday. Sandwiched in between the two basketball games is Saturday night's Big 12 football showdown with Texas as the Wildcats look to clinch the conference championship and the league's automatic BCS berth. The game will be showcased nationally on ABC as one of only two games pitting ranked teams against each other. It will be an electric night as 27 seniors will play their final game in Bill Snyder Family Stadium and our sold-out crowd will be loud and energetic for the 2012 season finale. Ten of those seniors have already earned their K-State degree with several more slated to graduate before the bowl game.

Fans with a football ticket can receive admission to Friday night's women's basketball game for only $3, and tickets start at just $15 for Sunday's men's game with the purchase of a Wildcat 4-Pack.

Fan Appreciation Day
Saturday's football game will also serve as Fan Appreciation Day, as all fans will have the opportunity throughout the game to win prizes from K-State Athletics, Verizon, Manhattan Town Center, the Eye Doctors, Pepsi, Briggs Auto, Clarion Hotel and Sonic. A pregame family fun area will be open from 4 to 6 p.m. in Bramlage Coliseum featuring a chemistry magic show by Alpha Chi Sigma, a balloon maker, Willie Wildcat and several games. A special concessions package that includes a hot dog and soft drink, water or hot chocolate will be available at all concession stands for just $5. The first 10,000 fans to enter the gates will receive a free 8-by-10 artwork of K-State football's 16 goals for success. Free K-State window decals will also be given away with each purchase at Cats Closet, and select T-shirt styles originally priced from $17.99-$19.99 will be on sale for only $9.99. Fans will also receive a special discounted ticket price for the men's basketball game against Texas Southern on Dec. 18. All fans with a scanned football ticket will be sent a promotional code to their email address on file for $10 general admission tickets, a savings of $10 off the regular price.

Brown, Klein make national splash
It has been a pleasure watching this football team grow and build off tremendous leadership – both from our coaches and senior leaders. Collin Klein and Arthur Brown are certainly two of those leaders who have worked so hard day in and day out to be a model student, athlete and person. And that work has been recognized as both have recently been named finalists for national awards. Arthur will travel to Newport Beach, Calif., on Dec. 9 to be a part of the Lott IMPACT Trophy gala, while Collin will head to Orlando, Fla., for the ESPN College Football Awards Show as a finalist for the Davey O'Brien and Maxwell Awards.

Bowl announcement Sunday
With Saturday's game with Texas having implications on potential bowl destinations, we are fortunate to be in the position of already knowing our student athletes, coaches, staff and fans will have a memorable and world-class bowl experience this season. Our fans have a national reputation of traveling in support of the 'Cats and know that 2012 will be no different. If you haven't done so already, start making your bowl plans now and visit our bowl headquarters page at k-statesports.com/bowlgame for all up-to-date ticket and game information.

More conference realignment
Once again conference realignment has been in the news as at least 10 (I've lost count) schools have left or joined different conferences including the Big 10, ACC, C-USA, Sun Belt and others over the past few weeks. President Schulz and I are of course constantly working with Commissioner Bowlsby and the conference presidents and A.D.'s to monitor the national scene. With our long-term grant-of-rights, major television contracts with ESPN and FOX and our 12-year agreement with the Southeastern Conference to match their champion with the Big 12 champion in the Sugar Bowl, the national position of our conference has never been stronger! The Big 12's full round-robin scheduling has produced exciting match-ups throughout the season and our league is unquestionably the deepest in college football, with a record 90 percent of our teams bowl-eligible this season. I am really excited about our trajectory as a league!

Neighborhood Coffee with the AD hits Dillons Westloop
It's always important to have personal contact with our fans and hear their thoughts, concerns and questions, but it is especially important as we make necessary adjustments together to continue our positive momentum. Last month, we debuted our neighborhood coffee events for Manhattan area residents with an opportunity to talk one-on-one about K-State Athletics. Our next stop is tomorrow at the Dillons Westloop Café, so come join us from 7:30-9:00 a.m.
That's it for today. Good luck to all our teams this weekend, and we will see you out at the games beginning with women's basketball tonight in Bramlage. Thank you for your continued support!
Go 'Cats!

John Currie