November 30, 2012
Irrigation Association honors Lamm as Person of the Year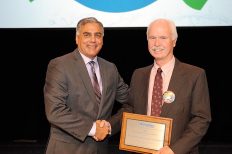 The Irrigation Association has selected Freddie Lamm, professor and research irrigation engineer at the K-State Northwest Research-Extension Center at Colby, as its Person of the Year.
Lamm has conducted irrigated water management and irrigation systems research for Kansas State University at the Colby facility since May 1979. His current research is with development and management of advanced irrigation systems — such as In-Canopy Center Pivot Sprinklers and subsurface drip irrigation — for irrigated crop production, particularly for field corn, the predominate irrigated crop in the region. A considerable portion of his time since 1989 has been devoted to development and adaptation of subsurface drip irrigation for use in the U.S. Great Plains. Since that time he has been involved in more than 780 different subsurface drip irrigation technology transfer activities.
Lamm has served as editor or co-editor of two books concerning micro-irrigation and has been author or co-author on two book chapters. He has been author or co-author on 39 refereed journal articles and an additional 258 technical proceedings papers and popular press articles. He also manages two websites concerning irrigation at Kansas State University.
The Irrigation Association is the leading trade organization for irrigation equipment and system manufacturers, dealers, distributors, designers, consultants, contractors and end users with over 1,600 current members. The mission of the association is to promote efficient irrigation technologies, products and services.
The association's Person of the Year award has been given annually since 1952 and is awarded to recognize a person outside of the commercial irrigation industry who has made outstanding contributions toward the acceptance of sound irrigation practices.