February 20, 2020
K-State Engineering Extension prepares for KidWind Challenge at Unger Complex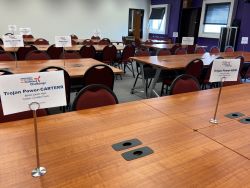 The Kansas Energy Program housed at K-State Engineering Extension will welcome 14 teams and 55 students to its KidWind Challenge at the K-State Unger Complex, Feb. 20. In hosting this competition, the Kansas Energy Program is continuing the KidWind tradition started by Ruth Douglas Miller, K-State electrical engineering, in 2011. The Kansas Energy Program took over the program in 2018.
KidWind is an annual competition where student teams build and test their own wind turbines, then compete in a regional event for a chance to move on to state and national competitions. The events are part of the Energy Education partnership between the Kansas Corporation Commission and K-State Engineering Extension with a grant from the U.S. Department of Energy. The events are also supported by corporate sponsorships from Enel Green Power North America, EDP Renewables, Evergy, and the Kansas Electric Cooperatives.
"This is such a fun program to bring to the students," said David Carter, director of the Kansas Energy Program at K-State Engineering Extension. "We are grateful to the Kansas Corporation Commission Energy Office and our corporate sponsors for allowing us to expand this program to allow more schools and students."
The KidWind Challenge in Manhattan has gone from being the sole event in 2018 to one of five regional events throughout the state in 2020.
Teams compete by age group, fourth through eighth grade or ninth through 12th grade, with three to five students per team. At each regional competition, the top two teams in each age group advance to the state finals. State winners move on to the national competition in Denver. The complete schedule of events appears below. All events are open to the public.
Region date and location:
Northeast, Feb. 20, Manhattan, Unger Complex.
Southwest, Feb. 25, Dodge City, Village Square Mall.
Northwest, Feb. 27, Oakley, NW Kansas Educational Service Center.
Southeast, March 6, Burlington, Wolf Creek Nuclear Power Plant.
State Finals, April 4, Topeka, Topeka Center for Advanced Learning and Careers.
National Finals, June 1-4, Denver.
More information about KidWind, visit the website or contact Carter at 785-532-4998.