January 6, 2020
Annelise Nguyen to serve as associate director of Johnson Cancer Research Center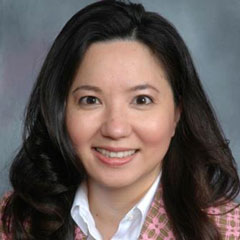 The Johnson Cancer Research Center at Kansas State University announces the appointment of Annelise Nguyen, associate professor of diagnostic medicine and pathobiology in the College of Veterinary Medicine, as the center's new associate director, starting Jan. 13. She succeeds Mark Weiss, professor of anatomy and physiology in the veterinary college.
Nguyen has extensive experience in breast cancer research and has been a member of her department's toxicology group since 2004 and a research affiliate of the Johnson Cancer Research Center since 2005. She investigates the efficacy of anticancer drugs and has expertise in preclinical data of toxicological studies and in intellectual property for anticancer drugs.
"Annelise has been a very active research affiliate and advocate of the cancer research center, and I know she will provide outstanding representation and service to the center," said Sherry Fleming, director of the center and professor of biology. "I look forward to working with her to continue growing the center and advancing cancer research at K-State."
Nguyen's research in cancer biology has focused on the role of gap junctional intercellular communication. Recently, her research has expanded to spheroid/organoid development using PGMatrix to recapitulate 3D, human tumor-like organoids and generate 3D, tumor-specific models for anticancer drug testing.
Nguyen received a bachelor's degree in molecular and cellular biology and a doctoral degree in toxicology from Texas A&M University and completed a National Eye Institute postdoctoral fellowship. She is a diplomate of the American Board of Toxicology and teaches four graduate courses. She is the recipient of the 2019 John Doull Award for outstanding contribution to the field of toxicology.
Nguyen will retain her responsibilities in the veterinary college while supporting the mission of the cancer research center.
The Johnson Cancer Research Center is a multidisciplinary unit of the College of Arts and Sciences that works to further the understanding of cancers and advance and support cancer research at Kansas State University.