April 4, 2011
Energy insider, K-State alumnus bringing straight talk on oil to April 13 lecture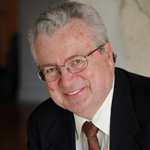 John Hofmeister is a straight shooter. Whether he's being interviewed on national television or testifying on Capitol Hill, the former president of Shell Oil tells it like it is.
Like the time he predicted Americans might be paying $5 a gallon for gasoline by this time next year. Or the time he said we could be rationing fuel -- 1970s' style -- by the end of this decade.
Hofmeister is bringing his straight talk to his alma mater, Kansas State University. He will present "An Energy Engagement Considering Political Turmoil, Rising Prices and Natural Disasters: Solutions for the 21st Century" at 1:30 p.m. Wednesday, April 13, in the K-State Student Union's Little Theater. The presentation is free and the public is welcome.
Copies of Hofmeister's latest book, "Why We Hate the Oil Companies," will be available for purchase, and he will be on hand to sign copies.
"John Hofmeister is a highly respected expert on energy issues. Kansas State University and the College of Arts and Sciences are fortunate and so grateful to John for taking the time to come back and share his knowledge with faculty, students and the whole community," said Brian Spooner, interim dean of the College of Arts and Sciences.
In 2008, Hofmeister founded and now heads the not-for-profit, nationwide membership association Citizens for Affordable Energy. The public policy education firm promotes energy security solutions for the U.S., including a range of affordable energy supplies, efficiency improvements, essential infrastructure, sustainable environmental policies and public education on energy issues.
Hofmeister graduated from K-State in 1971 with a bachelor's degree in political science and in 1973 with a master's in political science. While at K-State he was a member of the Van Zile Hall staff and the Union Programming Council. He also was named an alumni fellow for the College of Arts and Sciences in 2006, and presented a K-State Landon Lecture later that same year.
Hofmeister has been instrumental in endowing the Michael W. Suleiman Chair in Arab and Arab-American Studies in K-State's department of political science. He is a member of Presidents Club, a Kansas State University Foundation philanthropic leadership organization for friends and alumni of K-State.