April 4, 2011
Jason Derülo with Kevin Rudolf in Bramlage
Submitted by Audrey Taggart-Kagdis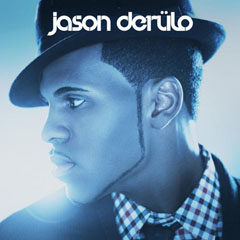 Union Program Council is bringing triple-platinum recording artist Jason Derülo and his national tour to Bramlage Coliseum with Kevin Rudolf on Monday, April 11.
This Miami-born singer, songwriter, dancer and actor ruled the airwaves this past year with his three smash hit singles, "Whatcha Say," "In My Head," and "Ridin' Solo" off his self-titled debut album, "Jason Derülo." The album debuted at No. 4 on the digital albums chart and No. 11 on the Billboard Top 200 album.
According to jasonderulo.com, Derülo's triple-platinum debut single "Whatcha Say" spent four consecutive weeks atop the pop chart, while the platinum second single "In My Head" made him the first male solo artist to score consecutive No. 1s on Billboard's pop songs radio airplay chart in the chart's 17-year-history with his first two entries. Derülo's third single, "Ridin' Solo," has been certified platinum in the U.S. Derülo has sold more than 11 million singles and 750,000 albums worldwide and is the first male solo artist in history to have three singles hit the top 10 on Billboard's Hot 100 chart.
Opening for Derülo is genre-jumping singer, songwriter, producer and guitarist Kevin Rudolf. In September 2008, Rudolf launched a solo career on the Cash Money label with the rock-rap blend "Let It Rock" featuring special guest Lil Wayne. The instant hit single was a teaser for Rudolf's debut album, "In the City," which landed in late 2008. Two years later, his sophomore album, "To the Sky," featured Flo Rida, Three 6 Mafia and Weezer's Rivers Cuomo.
The 7:30 p.m. concert will also feature DJ Dainjazone when doors open at 6:30 p.m.
Floor seats are $28 for K-State students, $34 for military and $38 for non-K-State students. Other tickets range from $18 to $33. Applicable fees apply and K-State students must show a valid K-State ID to enter. Tickets can be purchased at the athletics ticket office or by calling 800-221-CATS. Military and non-students can purchase tickets online at www.k-state.edu/upc.
For a complete list of all UPC activities, visit k-state.edu/upc or call the UPC office at 785-532-6571.