November 13, 2012
Update from A.D. John Currie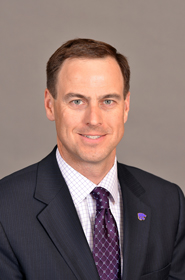 Good morning, Wildcat Nation.

Wow — how about that for a Wildcat weekend! K-State teams were 5-0 over the last three days with wins in men's and women's basketball (2), volleyball and of course the nationally televised football triumph at TCU Saturday night. Meanwhile freshman Laura Galvan finished seventh at the regional meet to earn a berth in next week's NCAA cross country championships!

I was so focused on the weekend that I created some confusion regarding men's basketball start times in my letter yesterday. I apologize and appreciate the readers who pointed out my error. To bail me out I've had the staff proof the following three times to make sure I've got it right:

Tonight

6 p.m. - Lamar vs. North Texas

9 p.m. - K-State vs. Alabama-Huntsville

A few tickets are still available starting at $15 each for a purchase of four or more, so come early and be loud tonight and help the 'Cats advance towards New York!

Wednesday night be sure and tune in for the 5 p.m. ESPNU national telecast for our 17th-ranked and 21-5 volleyball team as the 'Cats travel to Iowa State for a huge match!

And on our great fans... While walking up a back staircase to the press box during the third quarter of Saturday's football game I heard a thunderous roar from the crowd. Since TCU had the ball I assumed they made a big play or even had scored. Boy was I wrong! The "home team roar" was in fact the K-State faithful following a Wildcat punt return that eventually led to three of our 23 points. Our players told the media following the game they felt like they were playing at Bill Snyder Family Stadium based on the crowd noise and support of our fans. Once again a national FOX television audience witnessed the pride of the K-State Nation --- thank you!!

Finally, we encourage our fans to place their contingent bowl ticket orders at www.kstatesports.com. We remind you that the priority deadline is Nov. 30. Visit the website or call 800-221-CATS for more information.

I hope you all have a great week and we will see you tonight or tomorrow at Bramlage for exciting K-State basketball.

Go Cats!

John Currie