November 8, 2012
Smurthwaite open house today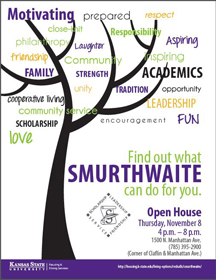 On behalf of the women of Smurthwaite House, we'd like to invite you to our annual fall open house from 4-8 p.m. today.

Faculty, administrators, family, friends and prospective students are welcome to come and learn more about Smurthwaite, as well as get to know one another. The house will be open for tours, refreshments will be provided and the kitchen will be open for a fun baking activity.
We would be honored to have you as a guest and look forward to sharing all that Smurthwaite has to offer K-State and the surrounding community.
Smurthwaite is a leadership/scholarship house that was established in 1960 on the four pillars of scholarship, friendship, leadership and service. Operated by housing and dining services, we offer a cooperative living environment in which the residents assume responsibility for duties such as cooking and cleaning in exchange for lower rates. The women who live here participate in a wide variety of activities that emphasize education, diversity and community service.