October 7, 2019
Avocados from Mexico president and CEO visits College of Business Administration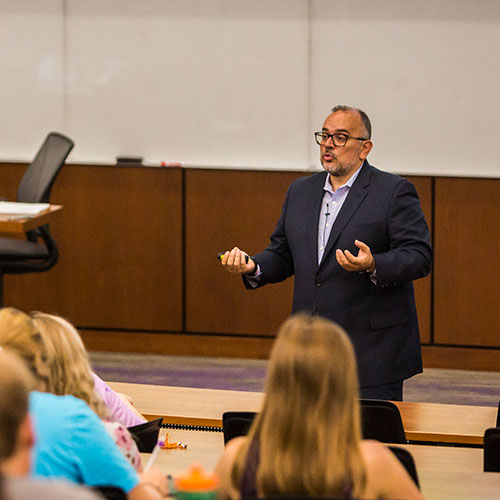 The College of Business Administration recently welcomed Alvaro Luque, president and CEO of Avocados from Mexico, to discuss his company's Super Bowl ad strategy as part of the colleges' Business of Sports and Entertainment Speaker series.
According to Luque, the responsibility you have as an advertiser is to create value and growth. Looking at and understanding your audience is so important, and you need to have content that can cater to your whole audience
Luque spoke to the class about the process it took for his company to reach the growth they have when it comes to advertising. Avocados from Mexico has produced commercials trying to give its audience unique experiences over the last few years. During that time, the company has spent around $7 million dollars for a total combined air time of two minutes and thirty seconds.
A big point of emphasis from Luque was talking about how companies look at their investments. If your main focus of having an advertisement during the Super Bowl is the amount of money you'll make off it, then it's probably not worth it. But if you view it as a campaign instead, using the opportunity is the most underrated media investment you could make.
"The creativity that was demonstrated by Luque and his team in their Super Bowl ad campaigns was really inspirational for the class," said Doug Walker, associate professor of marketing and leader of the speaker series. "I am unaware of a better example of leveraging synergies between cutting-edge digital technology and a clear marketing strategy."
In addition to speaking to the sports marketing class, Luque and his team also presented as part of the college's Entrepreneurship Speaker Series about launching new products.