October 1, 2019
Human Development and Family Science Association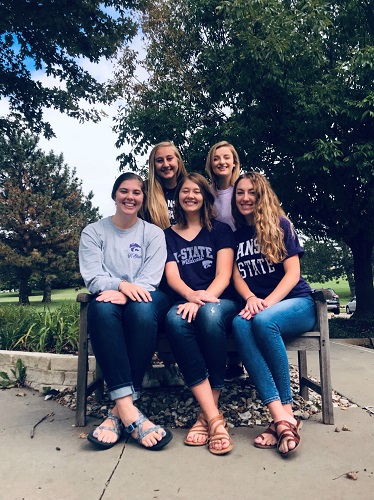 The Human Development and Family Science Association has launched its 2019-2020 year of activity and service with the leadership of Merani Rivarola, senior in human development and family science, Lenexa.
Joining Rivarola as directors of the organization are Kirsten Dieckmann, junior from Clay Center; Abbie Kummer, sophomore from Colby; Jayme Hay, sophomore from Manhattan; and Savannah Leaton, junior from Spring Hill.
Rivarola, executive director of the association, plans to focus on meaningful service activities such as a universitywide poverty simulation and various volunteer opportunities at social service agencies in the community. Additionally, the association provides ways for students to meet and work with faculty doing human services research such as the work that Anthony Ferraro and Mindy Markham have underway in standards for divorce education.
The association is an organization for students who are interested in the human development and family science major or minor. It provides an opportunity for students to unite and gain experience through volunteering within the community. The association aims to provide monthly service events, specifically at social service agencies within the Manhattan area. They strive to engage with various populations representing all stages of life. Their September activity included activities with residents at Stoneybrook Retirement Community.
Human development and family science can be a broad career field to explore, being a member of this association is helpful for students to navigate what career direction sparks most of their interest. At the monthly meetings, students will benefit from a variety of engaging topics throughout the academic year, such as human development and family science careers, research and graduate school information, and experience a variety of HDFS opportunities within the community.
The next meeting will be at 7 p.m. Tuesday, Oct. 1, in 245 Justin Hall. All are welcome to attend/participate and it is highly encouraged that all human development and family science students consider joining the Human Development and Family Science Association. There will be a panel of human development and family science seniors at this meeting and they will answer questions regarding experiences that they found helpful to build their professional and personal development.
For any questions about the association, please contact Rivarola at meranirivarola@k-state.edu.