October 1, 2019
Adobe Creative Jam: A Unique Experience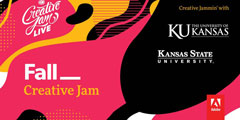 The Kansas XD Creative Jam will be from 10 a.m. to 3 p.m. Friday, Oct. 25. Students from all skill levels are welcome. The jam allows student teams to compete in a tournament show off skills, get inspired and connect with friends.
The A.Q. Miller School of Journalism and Mass Communications will host a remote site in 105 Kedzie Hall where the Adobe team will Zoom in. Lunch will be served and cash prizes will be awarded to first, second and third place team members.
What are you waiting for? Register today at https://cjam.in/kansas.