November 1, 2012
Division of Continuing Education hosts Regents Core Outcomes Project meeting
Submitted by Communications and Marketing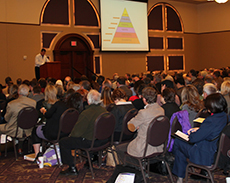 Kansas State University was host to representatives from universities and from community and technical colleges across Kansas when they convened recently at the Alumni Center. The group was on campus to discuss how to simplify a student's transition from a two-year institution to a four-year institution.
The goal of the Kansas Board of Regents Core Outcomes Project is to align the learning outcomes in all foundational courses. This assures students of learning the same content wherever they take the courses within the regents institutions. Core outcomes also help to provide a smoother transition from two year institutions to colleges and universities
"One of the key ways to ensure that Kansas community college transfer students experience a seamless transfer to K-State lies in the building of consistent learning outcomes in core courses," said Sue Maes, dean of the Division of Continuing Education. "The division is committed to improving the four-year graduation rates of Kansans and was pleased to play a key role in the coordination of this meeting."