September 10, 2019
Research Connections offers opportunity to build interdisciplinary collaborations, find resources and promote your work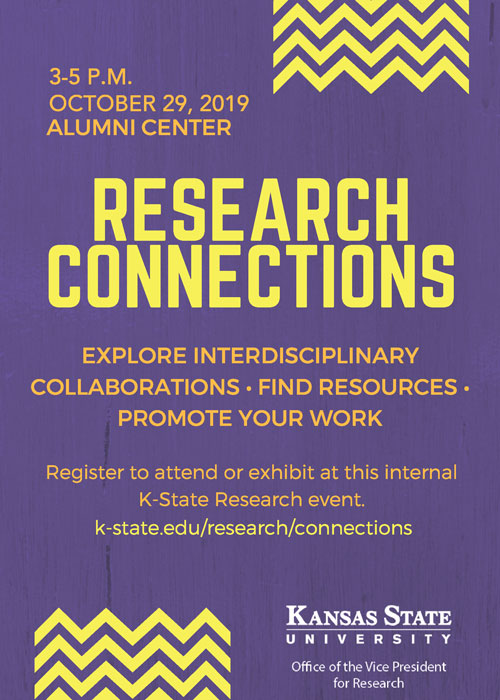 K-State faculty, postdocs, graduate students and staff engaged in research, scholarly, and creative activity and discovery are invited to participate in Research Connections. The event will be 3-5 p.m. Tuesday, Oct. 29, in the K-State Alumni Center Banquet Room.
The event is designed to give K-State researchers a venue in which they can learn what their colleagues are doing, promote their own work, and explore possible collaborations. Exhibitors and attendees also will have an opportunity to learn about K-State resources that are available to support research, scholarly, and creative activity and discovery at K-State. Exhibitors will have a table and display space for posters, banners, signs, handouts and some limited equipment or other items. Setup will be available starting at 1 p.m. Register now as an exhibitor or to attend.
Research Connections is part of an ongoing series of events conceived by a group that came together in May 2013 to support K-State corporate engagement and research collaboration efforts. Representatives from the Office of the Vice President for Research, the Kansas State University Research Foundation, the Kansas State University Foundation and the Career Center created a Working with Industry Boot Camp and associated workshops to support faculty efforts to forge relationships with industry sponsors. The group sponsored the first Research Connections event in fall 2017 and Research Showcase events in spring 2015, 2016, 2017 and 2018.