July 29, 2019
Lawrence Scarpa next Victor L. Regnier distinguished visiting chair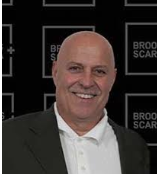 Distinguished architect Lawrence Scarpa, principal of Brooks + Scarpa Architects, has been selected as the 2019-2020 Victor L. Regnier distinguished visiting chair in the architecture department at Kansas State University's College of Architecture, Planning & Design.
As the Victor L. Regnier distinguished visiting chair in architecture, Scarpa will co-teach a graduate-level architecture design studio course with a graduate faculty member for the academic year, visiting a few times in the fall and spring semesters.
Scarpa's work has redefined the role of the architect to produce some of the most remarkable and exploratory work today. He has garnered international acclaim for the creative use of conventional materials in unique and unexpected ways. He is also considered a pioneer and leader in the field of sustainable design.
Scarpa has received more than 100 major design awards, including 20 National American Institute of Architects Awards, 2014 Smithsonian Cooper Hewitt National Design Award, 2005 Record Houses, 2003 Record Interiors, 2003 Rudy Bruner Prize, five American Institute of Architects COTE "Top Ten Green Building" Awards and was a finalist for the World Habitat Award, one of 10 firms selected worldwide. In 2004 The Architectural League of New York selected him as an "Emerging Voice" in architecture. His work has been exhibited internationally, including the National Building Museum in Washington, D.C. He has been featured in Newsweek and appeared on "The Oprah Winfrey Show." In 2009, Interior Design Magazine honored him with its Lifetime Achievement Award. In 2010, his firm Brooks + Scarpa was awarded the National and State of California Architecture Firm Award from the American Institute of Architects. Scarpa also is a fellow of the American Institute of Architects.
Currently, he is on the faculty at the University of Southern California and has taught and lectured at the university level for more than two decades. Some of those institutions include the University of North Carolina at Charlotte; Harvard University; University of California, Los Angeles; Southern California Institute of Architecture; Washington University in St. Louis; University of Florida; University of Michigan; University of Southern California; and the University of California at Berkeley. He is a co-founder of Livable Places Inc., a nonprofit development and public policy organization dedicated to building mixed-use housing on underutilized and problematic parcels of land. Most recently he co-founded the Affordable Housing Design Leadership Institute to help develop more sustainable and livable communities.
The Victor L. Regnier distinguished visiting chair in architecture was established in 2003 by the children of Victor and Helen Regnier to enrich the educational experiences of Kansas State University architecture students by exposing them to the finest architects from around the world.