July 19, 2019
Progress toward the goal of a new student CRM system
Submitted by Chuck Taber and Gary Pratt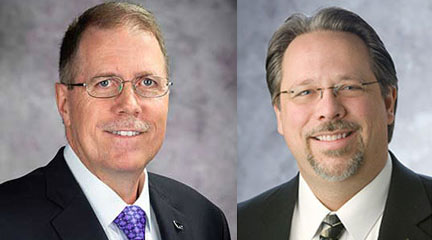 Dear Colleagues,
The selection of a new Constituent Relationship Management, or CRM, platform for undergraduate and graduate recruitment is a significant milestone in advancing our Strategic Enrollment Management, or SEM, plan. Our new CRM solution, TargetX, a Salesforce partner, will foster collaboration to enhance recruitment, enrollment and student success.
It is exciting to see the progress being made toward achieving our SEM goal of deploying a student CRM system universitywide. Throughout March and April, the CRM project team conducted listening tours to gather feedback on current recruiting practices. More than 200 people participated in 13 listening tour sessions. The sessions included participants from all four campuses who are actively engaged in recruitment, the Deans Council, as well as several student groups. The information gathered during those sessions played a critical role in the selection of TargetX.
We also want to thank the search committee for their efforts to carefully evaluate and select a solution that best meets our needs. As the provost and chief information officer, we serve as project sponsors and are committed to supporting the successful implementation and operation of a truly shared CRM.
Jan Elsasser, deputy CIO for BI, Analytics, and Enterprise Applications, and Emily Lehning, interim vice provost for enrollment management, will co-lead the implementation. An expedited timeline has been put in place to ensure our current recruiting cycle will benefit from access to TargetX.
Town Hall meetings are scheduled on July 18, July 30 and Sept. 12 to discuss the status of the CRM project as well as business processes and implementation planning. Your valuable input during this process is required to help us advance the university and its enrollment goals. To learn how you can participate in the Town Hall meetings, visit the CRM website.
To keep up-to-date on the implementation, view the CRM blog k-state.edu/crm.
Sincerely,
Chuck Taber
Provost and executive vice president
Gary Pratt
Chief information officer