July 22, 2019
Williams to lead New Student Services as interim director
Submitted by Communications and Marketing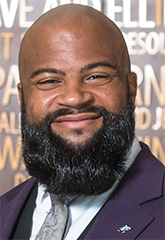 Bryon Williams, an assistant director of New Student Services at Kansas State University, has been appointed interim director of the department.

Williams' appointment was made by Emily Lehning, interim vice provost for enrollment management. Williams will serve as interim director until a national search for a permanent vice provost for enrollment management is completed.
"We are very pleased that Bryon has agreed to serve in this role," Lehning said. "He brings a wealth of experience in working with a variety of populations of prospective students and their families, and has a passion for collaboration to promote student success."

As interim director, Williams will continue advancing the goals, plans, and activities of New Student Services, which promotes student success by engaging prospective, new and current students and families with the K-State community in a spirit of inclusivity, collaboration and excellence.

Williams has long been involved with recruitment of diverse students to K-State. He started as an admissions representative and coordinator of multicultural recruitment with New Student Services in July 2010. In August 2012, he was named assistant director of targeted student populations, and then became assistant director of diversity recruitment in June 2016, managing the recruitment and outreach for diverse student populations, including multicultural students, nontraditional students and military-affiliated students. Among his accomplishments in this position was cultivating a partnership with the Give Something Back Foundation, which led to a $500,000 grant to K-State to help students with extreme financial need, students in foster care and students with incarcerated parents. He also assessed the effectiveness of the university's diversity recruitment strategies based on state and national trends.

In August 2017, Williams became assistant director of college access and community outreach, creating and fostering community partnerships aimed at increasing the college participation of students from historically underserved populations. He serves as official liaison to the KC Scholars program, which provides college access and financial support for approximately 3,000 first-generation, low-income and nontraditional students. Williams also develops and implements recruit strategies for students who attend community college in Kansas City, Kansas, among other duties.

Also active with advising students, Williams has been a faculty adviser to K-State's Black Student Union and National Pan-Hellenic Council. He has been an invited speaker at several national and regional conferences dealing with multicultural student enrollment and management, leadership and student success. His work has earned several honors, including the National Role Model Award in 2015 from Minority Access Inc., K-State's Commerce Bank and W.T. Kemper Foundation Presidential Faculty/Staff Award for Distinguished Services to Historically Underrepresented Students in 2015 and the Division of Student Life's Putting Students First Award in 2014.

Williams earned a bachelor's degree in economics in 2009 and a master's degree in counseling and student development in 2015, both from K-State. He is currently working on his doctorate in higher education administration from the University of Kansas.