July 11, 2019
OEIE team receives national Extension innovation award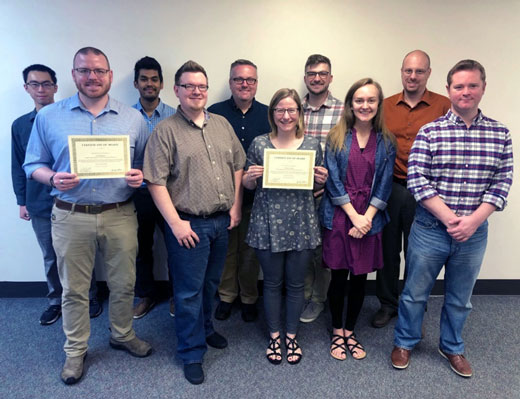 PEARS team: Back row, from left, Weston Chan, Jevin Subedi, Brent O'Connor, Levi Mann and Aaron Schroeder. Front row, from left, Joel Wallace, Derek Beins, Allison Teeter, Madalyn Talmage and Conner Knightley. Not pictured: Cindi Dunn, Kim Nicholso
A team of technology and evaluation professionals with the Office of Educational Innovation and Evaluation, or OEIE, was presented with the Award for Innovation for its data management system at the National Extension Technology Conference June 23-27 in Morgantown, West Virginia.
The Program Evaluation and Reporting System, or PEARS, is a web-based data management system used by a growing number of Extension and nutrition education programs across the nation. The award honors the innovative use of technology integrated into the delivery of educational programs or in the administrative systems that support educational programs.
Aaron Schroeder, associate director and PEARS team leader, explained PEARS grew from a collaboration between OEIE and K-State Research and Extension to help nutrition education professionals and Extension administrators manage program data and demonstrate impact.
"It was great to be nominated by one of our clients," Schroeder said. "Our team works incredibly hard innovating and providing a top-notch customer service experience, and to know our work stood out is truly rewarding."
The OEIE team built the PEARS program to streamline evaluation efforts of KSRE and Supplemental Nutrition Assistance Program Education, or SNAP-Ed, in Kansas. Today, more than half of the states use PEARS to track SNAP-Ed efforts and three rely on the system to evaluate their statewide cooperative extension programs.
More specifically, PEARS provides a means for Extension and nutrition educators to accurately report program impacts, make program improvements, and assess progress toward affecting policy, system and environmental changes. New visual dashboards and a built-in CRM are currently in the works to further highlight Extension efforts and better track community engagement.
To learn more about the office or PEARS, visit k-state.edu/oeie/.