July 10, 2019
Larry Moeder to retire in December
Submitted by Division of Communications and Marketing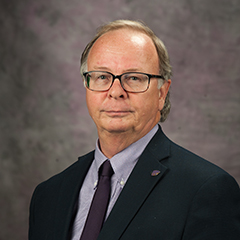 After more than 40 years of service to Kansas State University, particularly in helping students find the resources to pay for college, Larry Moeder will retire at the end of December.
Moeder, who until recently served as associate vice president for student life and executive director of student financial aid and undergraduate admissions, was appointed July 1 as a special assistant to the provost under the strategic enrollment management restructuring and helps advance K-State's SEM goals. Moeder coordinates with and supports Emily Lehning in her role as interim vice provost for enrollment management. His work includes providing financial aid presentations and informational sessions for prospective students and families visiting campus and at off-campus events. He also helps train admissions representatives and SEM staff and serves on working groups addressing enrollment management issues.

For the bulk of his career at K-State, Moeder served as director of student financial assistance, helping K-State students apply for scholarships and secure government-funded student aid, including loans and work-study funding. He started working in the Office of Financial Assistance in 1973 as a student employee. After graduating from K-State in 1977 with a bachelor's degree, Moeder was named coordinator of veterans affairs. He earned his master's degree from K-State in 1980, and then became assistant director of student financial assistance in 1981 and was promoted to director in 1991. In 1997, he also was named director of undergraduate admissions. He later was promoted to assistant vice president and then associate vice president for student life, as well as executive director of student financial assistance and undergraduate admissions.
"Larry has touched the lives of students at Kansas State University for more than four decades, and I am grateful for his service," said Charles Taber, provost and executive vice president.

For his work in student financial assistance, Moeder has been recognized with many state and national awards, including the 2005 Hall of Fame award from the Kansas Association of Student Financial Aid Administrators. This is the highest award that can go to an individual member and is in recognition of his outstanding commitment to serving students. He was honored as one of the top members of his profession in 1998 with one of six national leadership awards from the National Association of Student Financial Aid Administrators. In 2018, Moeder received K-State's Commerce Bank and W.T. Kemper Foundation Presidential Faculty and Staff Award for Distinguished Service to Historically Underrepresented Students. He was recognized for his significant influence on the retention of underrepresented students at the university, particularly his efforts to assist income-limited students and working to increase the number of need-based scholarships. He is a longtime member National Association of Student Financial Aid Administrators and has served in many roles, including as president the Kansas and regional financial aid associations.
"Larry is a professional who works from a student-centered philosophy," Lehning said. "His efforts have helped improve college access for many students as he has served as a valued resource for students, families, campus colleagues and educators."

A retirement celebration is being planned for this fall and details will be announced once finalized in K-State Today.