June 20, 2019
Veterinary researcher Niederwerder speaks at International African Swine Fever Forum as expert panelist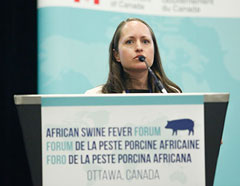 Megan Niederwerder, assistant professor in diagnostic medicine and pathobiology, delivered a talk titled "Risk of African Swine Fever Virus (ASFV) in Feed" at the International African Swine Fever Forum in Ottawa, Canada, April 30-May 1. Her talk was part of the Enhancing Biosecurity at the Border session, where she served as an expert panelist.
The forum was designed to bring together government and industry leaders to discuss the threat of African swine fever virus to the Americas. Chief veterinary officers from Canada, United States and Mexico led this forum in an attempt to support international collaboration that will increase biosecurity and make it more difficult for African swine fever virus, which is a contagious and deadly disease, to spread throughout the Americas.
"African swine fever is currently the most significant threat to worldwide swine production," Niederwerder said. "Protecting the North American swine industry from ASF is of critical importance for animal health and producer livelihood. With no effective vaccine or treatment, preventing introduction of the virus is the primary goal of countries free of the disease."
This was an invitation-only event with approximately 150 participants. Niederwerder was one of two university academic researchers invited to give a presentation and participate as an expert panelist. Niederwerder leads a team that investigates the risk and mitigation of the current circulating strain of African swine fever virus spreading in feed and feed ingredients. Their work has demonstrated that the virus is capable of surviving in feed exposed to transboundary shipment conditions and can be transmitted through the natural consumption of contaminated feed.
"ASF is a devastating transboundary animal disease of global concern," Niederwerder said. "The forum provided the opportunity for individuals from the Americas, as well as others from around the world, to come together and exchange ideas on addressing this international disease threat."
The forum was co-chaired by Jaspinder Komal and Jack Shere, chief veterinary officers for Canada and the United States, respectively. Greg Ibach, the undersecretary of agriculture for the U.S. Department of Agriculture, provided opening remarks on the importance of the forum for protecting North American pork production.