June 18, 2019
Interim director named for Staley School of Leadership Studies
Submitted by Communications and Marketing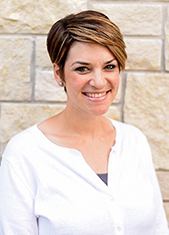 With the appointment of Staley School of Leadership Studies Director Mary Hale Tolar as interim vice provost for student success, Provost and Executive Vice President Charles Taber has named Trisha Gott as interim director of the Staley School.

Gott is currently serving as associate director of the school and is an assistant professor of leadership studies. Her interim appointment will begin on June 30 and last until Tolar returns to the directorship position following the completion of the national search to name K-State's first vice provost for student success.

"I want to thank Dr. Gott for taking on the responsibility of serving as interim director of the Staley School of Leadership Studies as Kansas State University continues implementing its SEM structure," Taber said. "Leadership studies is a unique, interdisciplinary program at K-State and I look to Dr. Gott's leadership in continuing to advance the goals, plans and activities of the Staley School."

As interim director, Gott will be responsible for the fiscal and personnel management, development activities, and curriculum and program review and development of the school.

Gott joined the Staley School in June 2009 as a coordinator and instructor, supervising and facilitating service-learning initiatives and civic leadership education programs. She also developed curriculum and coordinated logistics for student domestic and international service, as well as taught several courses for the leadership studies minor. She was promoted to assistant director of the Staley School in January 2012. Among her many duties were directing and supporting operational, strategic and daily logistics of the school. In August 2018, Gott was named associate director of the school. In this position, she helps with development and implementation of strategies to advance the school's strategic plan.

Along with her leadership studies duties, Gott serves as co-director of the university's Coffman Leadership Institute, a developmental experience for K-State faculty and staff. She also is co-director of the Mandela Washington Fellows Leadership in Civic Engagement Institute, a six-week summer institute for young African leaders at K-State.

Gott joined K-State in 2007, serving as coordinator for Hispanic recruitment and then as an admissions representative with New Student Services.

Gott has been honored for her work with the Putting Students First Award and the President's Award for Unclassified Professionals. She earned a bachelor's degree in Spanish with minors in leadership studies and women's studies, a master's in educational leadership and a doctorate in education, all from K-State.