June 4, 2019
Seventh annual NSSI Benefit Auction raises $40,000
Submitted by Brent Fritzemeier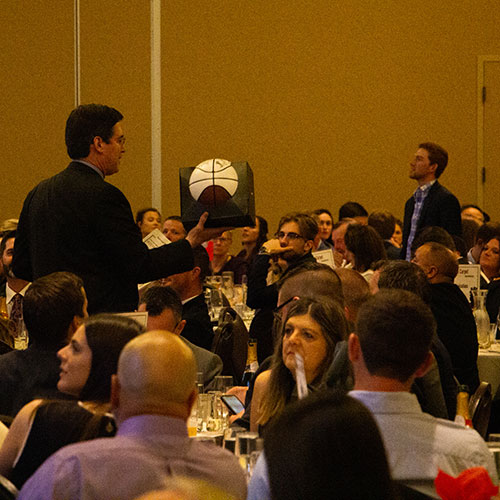 The National Strategic Selling Institute hosted its seventh annual Benefit Auction on Friday, May 10, at the K-State Alumni Center. Put on every year by students in the Advanced Selling class, this experience allows students to learn about territory management, prospecting, phone sales, and the sales process in a real-world setting.

Over the course of the spring semester, the students enrolled in the class transformed into true sales professionals, learning how to prospect, deliver value and use a customer relationship management system in the process. Together the students raised $40,000, which is given back to sales students as merit awards. An additional $10,000 was raised for Coming Together for a Cure, Wichita, which was chosen as the charity partner for the event. Founded by a recent K-State graduate, Coming Together for a Cure raises support and awareness for adult stem cell therapy to help people battling Muscular Dystrophy and other terminal diseases.

"We are grateful for the continued support from the K-State family and the hard work from the outstanding sales students," said Blake Benton, founder and director of Coming Together for a Cure. "This generous gift helps Coming Together for a Cure expand our mission of advancing adult stem cell therapy for families with Muscular Dystrophy and other incurable diseases."

Stan Weber, an alumnus of the College of Business Administration, served as emcee of the event with Michelle and Matt Canny of the Canny Team overseeing the auction portion of the evening. The highlight of the evening was the raffle ticket drawing for one of two K-State themed mopeds, which went to J.J. Brotton, Manhattan, and Alison Karr, St. George.

"The students taking the Advanced Selling class worked incredibly hard to achieve their goals. They stayed focused on their desired outcomes and learned a great deal," said Dawn Deeter, director of the National Strategic Selling Institute. "The fundamental purpose of this class is to give our students a realistic preview of what it is like to be a salesperson. Over the semester, the students realize firsthand about the ups and downs of a sales career and the effort required to be successful. It's because of experiences like this that companies continue to hire our students. I'm very proud of our class!"

The National Strategic Selling Institute is housed in the College of Business Administration, which has been named one of the top sales programs in the country for eight straight years by the Sales Education Foundation. Last fall, K-State became just the 19th university in the U.S. to offer a major in sales. Students can also earn a certificate in professional strategic selling, which is open to all majors at the university. The professional strategic selling program introduces students to the fundamentals of sales and through the innovative curriculum and sales labs allows students to develop the skills needed to be successful.
For more information on the National Strategic Selling Institute, please contact kstatesalesprogram@k-state.edu.