June 4, 2019
Team of student inventors selected for Braun award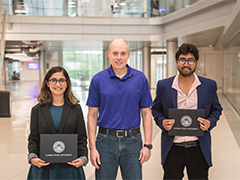 Doctoral candidates Joydeep Mitra, computer science, and Nandini Sarkar, chemistry, have been awarded the inaugural Ann and Dave Braun Student Inventor Award for their project, CoForm: An Automated Technique for Predicting Co-Crystals.
CoForm is an app developed by the team that is expected to be widely adopted and used by both academic and industrial scientists interested in the crystalline solid state, especially in the context of pharmaceutical and agrochemical applications.
Through a fund provided by the Brauns, Lake Elmo, Minnesota, the Carl R. Ice College of Engineering selects and presents the annual award in the amount of $5,000 for promising student inventors in the college. Dave Braun is a 1967 graduate of Kansas State University with a master's degree in mechanical engineering.
The primary goal of the fund is to reward inventions that have a chance to be successful in the marketplace. Entries must be a new technology, product or process, developed by a student or student team, and be unique, useful and solve a real-world problem.
Applicants must have a tested and working prototype of an invention to be eligible for the competition. The prototype should work as designed beyond proof of concept models.
Read more about the Ann and Dave Braun Student Inventor Award.