October 11, 2012
In the spotlight: Exhibition by alumnus Patrick Duegaw on display at Beach Museum of Art; opening reception Oct. 13
Submitted by Communications and Marketing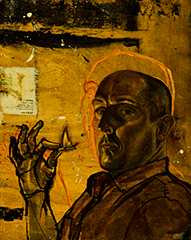 The newest exhibition at Kansas State University's Marianna Kistler Beach Museum of Art is the latest installment of Kansas artist Patrick Duegaw's "Painted Theater Project."
"Inadvertent Arson: Paintings and Drawings by Patrick Duegaw," on display now at the Beach Museum through Jan. 13, 2013, was conceived as a theatrical performance. The exhibition incorporates painted portraits, props and sets as surrogates for living actors, 3-D objects and a stage. Action is implied instead of performed, and a dialogue appears in the form of artist-generated text that accompanies each portrait.
An opening reception for Wichita artist Duegaw, who is a Kansas State University alumnus, will be 8-10 p.m. Saturday, Oct. 13, at the Beach Museum. The reception is free and the public is invited. Refreshments will be provided.
Duegaw's work has been shown across the country, including at the Paul Mahder Gallery and other galleries in San Francisco, the 2012 LA Art Show and at galleries in Kansas City and Wichita. He also has been invited to participate national group shows such as the Kansas Masters Invitational and the Kansas Governor's Ball/Inauguration Exhibition, both in 2007.
His work has been placed in many private, corporate and institutional collections, including the Ulrich Museum of Contemporary Art, Wichita Art Museum, the Kansas Health Foundation and the Emprise Bank Collection. It has been reviewed by Art In America, the Kansas City Pitch and Review magazines. From July 2005 to August 2006, Duegaw was highlighted in the Portrait of an Artist Campaign, an online journal project of the Smithsonian National Portrait Gallery in Washington, D.C.
As a founding member of Wichita's Fisch Haus artist cooperative, Duegaw's had seven large-scale solo multimedia exhibitions at the cooperative. Fisch Haus was originally conceived as a series of hit-and-run exhibition/performance events that transformed abandoned spaces in downtown Wichita into art happenings. It has now become a leading cultural movement in Kansas.
Duegaw's many honors include a Collaboration Grant, with the Ulrich Museum in Wichita, from the Kansas Arts Commission. He was runner-up for the commission's Governor's Award in 2010 and received a fellowship for painting from the commission in 2006. He received a Purchase Award from the Wichita Art Museum in 2004, the Ulrich Museum's Betty and Frank Brosius Award in 2001, and a Kansas Arts Commission Mini Fellowship in 1992.