September 26, 2012
Doctoral graduate in education wins national award for dissertation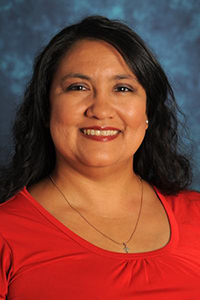 Cecilia Hernandez, College of Education doctoral graduate, was selected to receive the Association of Teacher Educators 2013 Distinguished Dissertation Award.
The award will be presented to her at the association's national conference in February 2013. The title of her dissertation is "The Extent to which Latina/o Preservice Teachers Demonstrate Culturally Responsible Teaching Practices During Science and Mathematics Instruction."
Hernandez is the second doctoral student in a year to win a national award for her dissertation from the department of curriculum and instruction. Amanda Morales, assistant professor of curriculum and instruction, was one of two recipients for the American Educational Association, Division K Outstanding Dissertation Award.
Gail Shroyer, professor and chair of the department of curriculum and instruction, was the major professor for both Hernandez and Morales.
"I am delighted Cecilia won this award because it demonstrates the quality and importance of her research," Shroyer said. "Cecilia's dissertation significantly contributes to our understanding of the extent to which diverse teacher candidates use culturally relevant teaching strategies to respond to the complex needs of diverse students in science and mathematics teaching."
Hernandez appreciates her experiences at K-State. "Dr. Shroyer is the most dedicated and inspiring professor I have met," she said. "Her willingness to give of her time meant a great deal to me, and I am grateful for her support and guidance."
A native Texan, Hernandez is an assistance professor of science education at the College of Education at New Mexico State University in Las Cruces, N.M.
Note: Photo courtesy of Darren Phillips, New Mexico State University photographer.