September 26, 2012
Richard Marston to present Jefferson Science Fellowship lecture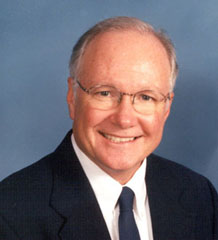 The office of the provost and senior vice president will host a universitywide lecture by Richard Marston, university distinguished professor of geography, at 3:30 p.m. Monday, Oct. 1, in the Little Theatre at the K-State Student Union.
The title of the presentation is "Science and Environmental Security in Foreign Policy: A year in the Jefferson Science Fellowship Program."
Marston recently finished a 12-month residence as a Jefferson Science Fellow in Washington, D.C. He was one of 13 scientists and engineers to be selected for the program in 2011-12, and the second K-State professor since the program began.
Marston served as a science adviser in the U.S. Department of State's Bureau of Intelligence and Research and the Office of the Geographer and Global Issues. He has followed international developments related to environmental security that involved water resources and geohazards, including glacier changes in the Himalayas and construction of hydropower dams.
In addition, Marston interacted with other offices in the Department of State, including the Science and Technology Adviser to the Secretary, the Water Team -- largely the Bureau of Oceans and International Scientific and Environmental Affairs, -- the Bureau of South and Central Asian Affairs, and undersecretary for civilian security, democracy and human rights.
Marston is part of a group working on a possible Global Dialogue on Emerging Science and Technology on Himalayan watershed management. He will discuss the scope of the Jefferson Science Fellowship Program and his experience in it in hopes of inspiring other K-State science and engineering faculty to apply.