February 28, 2019
Condia named American Institute of Architects fellow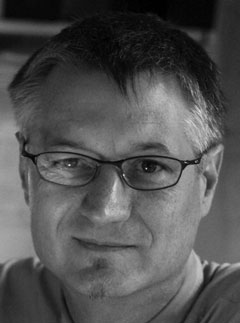 Robert Condia, professor of architecture in the College of Architecture, Planning & Design, or APDesign, was elevated to the College of Fellows of the American Institute of Architects, or AIA. He is recognized for being an educator whose innovative pedagogy of embodied experiences teaches design thinking through the craft of architecture by implanting curiosity, critical aptitudes, a creative drive and self-confidence within his students.
The College of Fellows awards members who have made significant contributions to the architectural profession. Condia will be honored at an investiture ceremony at the AIA Conference on Architecture 2019 in June in Las Vegas.
Condia, is an architect and design partner with Condia+Ornelas Architects in Manhattan. He teaches architecture as an art form with due considerations to neuroscience and architecture; the real; the ancient works of man; a building's terrestrial and celestial alignments; metaphysics and poetics of architectural design.
"I am humbled to be one of the two people in the state of Kansas to be elevated this year, the first ones since 2006," Condia said. "In over 35 years of teaching nothing is more important than cultivating young talent by lighting up their love for building architecture and launching them on a career path. I have been a champion of experiencing architecture through teaching design thinking, preparing our students for careers in the profession of architecture, and by engaging them to reflect and research the meaning of design. It is rewarding the number of former students who have sent congratulatory notes and shared with me their fine achievements since they have graduated."
The AIA fellowship program was developed to elevate those architects who have achieved a standard of excellence in the profession and made a significant contribution to architecture and society on a national level. Prospective candidates must have at least 10 years of AIA membership and demonstrated influence in at least one of the following categories:
Promoted the aesthetic, scientific and practical efficiency of the profession.
Advanced the science and art of planning and building by advancing the standards of architectural education, training or practice.
Coordinated the building industry and the profession of architecture through leadership in the AIA or other related professional organizations.
Advanced the living standards of people through an improved environment.
The stringent requirements result in only 3 percent of the institute's more than 91,000 members being recognized as fellows. Currently, there are 3,425 living fellows globally of which only five live in the state of Kansas, and three are in the College of Architecture, Planning & Design at Kansas State University.
Condia has been a studio critic for more than 35 years in both architecture and interior design. He is the 2017-2020 Regnier Distinguished Faculty Chair, and in 2017 he was named one of DesignIntelligence's Most Admired Educators and earned APDesign's Wayne McElwee Faculty Teaching Award. In 2015 he received AIA Kansas' Schirmer Award for service, and in 2008 he was awarded the Commerce Bank Distinguished Undergraduate Teaching Award. His publications range from monographs on the works of progressive architects to theoretical articles on the experience of space as well as a catalog of his own surrealist illustrations. Of particular attention are his recent works on neuroscience and architecture, the biological basis of aesthetic experience, and the craft of teaching architects to teach.
Condia earned his master's in architecture and building design at Columbia University 1983, and a Bachelor of Architecture at California Polytechnic State University, 1980.
Founded in 1857, the American Institute of Architects consistently works to create more valuable, healthy, secure, and sustainable buildings, neighborhoods, and communities. Through more than 200 international, state and local chapters, AIA advocates for public policies that promote economic vitality and public wellbeing. Members adhere to a code of ethics and conduct to ensure the highest professional standards. AIA provides members with tools and resources to assist them in their careers and business as well as engaging civic and government leaders and the public to find solutions to pressing issues facing our communities, institutions, nation and world.