February 28, 2019
K-State Air Force ROTC participates in base visit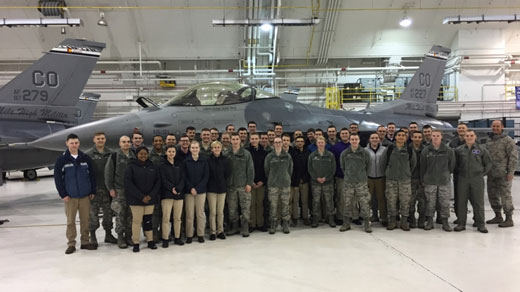 The K-State Air Force ROTC cadet wing pose with an F-16 at Buckley Air Force Base.
The K-State Air Force ROTC cadet wing recently traveled to Peterson Air Force Base, Buckley Air Force Base, and Schriever Air Force Base in the Colorado Springs, Colorado, area for a base visit. The purpose of the base visit was to educate cadets on potential careers are available to officers in the United States Air Force. Cadets also were exposed to what life is like on an Air Force installation.
The first installation that the cadets toured was Peterson Air Force Base — the hub of the Air Force's space capabilities and home to Air Force Space Command, one of 10 major commands of the Air Force. While at Peterson, cadets were able to speak with space operation officers from the 21st Space Wing, C-130 Hercules aircrew from the 302nd Airlift Wing, and civil engineers from the 21st Civil Engineering Squadron and learn about what the daily life in those career fields entails. Cadets also were able to tour the different living facilities and housing options that are available on base.
The second stop was at Buckley Air Force Base just outside Denver, Colorado. Cadets interacted with pilots from the 120th Fighter Squadron, who fly the F-16C Fighting Falcon. They also toured the squadrons facilities and viewed the F-16Cs up close. Cadets learned of the mission set of these aircraft and their combat capabilities that ensure we remain the greatest Air Force in the world.
The last tour that cadets participated in while in Colorado was at Schriever Air Force Base. Here, cadets had the opportunity to observe and interact with space operations officers working real-world operations controlling USAF satellites. The personnel from the 50th Space Wing simulated the procedure of repositioning and transferring information from a satellite. Cadets also interacted with members of the 50th Civil Engineering Squadron and 50th Security Forces Squadron. This gave cadets the opportunity to see some of the heavy equipment that is used to maintain everything from airfields to walkways and the weaponry that security forces use to defend the base.