February 26, 2019
Scholar Lisa Lowe presents on her work on Friday, March 1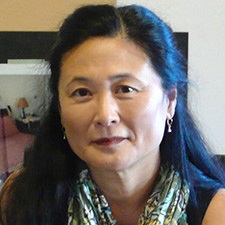 On Friday, March 1, scholar Lisa Lowe will present on her work at 4 p.m. in Town Hall at the Leadership Studies Building.
The talk, titled "Metaphors of Migration," is part of the English department's 28th annual Cultural Studies Symposium. It is free and open to the public.
Lowe is Samuel Knight professor of American studies at Yale University, where she teaches courses and conducts research on race, immigration, capitalism, colonialism and globalization. She received a Bachelor of Arts in history from Stanford University and a doctorate in literature from University of California, Santa Cruz.
Lowe is author of "Critical Terrains: French and British Orientalisms" (Cornell University Press, 1991) and "Immigrant Acts: On Asian American Cultural Politics" (Duke University Press, 1996), among numerous books, scholarly essays and journal articles.
Lowe's most recent book is "The Intimacies of Four Continents" (Duke University Press, 2015).
Tom Sarmiento, assistant professor of English and Asian American and Midwestern literature and culture, praises Lowe's contributions to the field of American studies.
"For over three decades, Lowe's ideas have illumined the power of critical theory and minoritarian cultural production to imagine new worlds, better worlds, ethical worlds, and have inspired countless thinkers to interrogate what it means to be human," Sarmiento said. "What a treat for K-State to have come visit such a leading scholar of our times."
For Michele Janette, Donnelly professor of English and Asian American literature and culture, Lowe offers a model for scholarship in globalization and cultural studies.
"Everyone wants to be transnational these days," Janette said. "Lisa Lowe shows us how it's done. She insists on the necessary logics within what seems contradictory (espousals of freedom and practices of slavery, for example), and on the mutual buttressing of what is often silo-ed (settler colonialism, indentured Asian labor, and slavery, for example). She attends deeply to these interwoven histories in order to reopen what has been foreclosed, in order to better understand our present and more flexibly imagine our future."
Tanya Gonzalez, professor of English and director of the Cultural Studies Program, agrees with Sarmiento and Janette, linking Lowe's work to current events at local and global levels.
"During a moment when some nations seem to be turning inward, Professor Lowe's work reminds us of the interconnectivity of national and regional histories, which, in turn, reminds us that the effects of policy are human and intimately felt by many," Gonzalez said. "We look forward to Professor Lowe's visit, as her work has been read widely across campus, by students in the departments of history, English, gender, women, and sexuality studies, American ethnic studies, and sociology, anthropology, and social work."
For more information about Lowe's work, visit her website at americanstudies.yale.edu/people/lisa-lowe. For more information about the Cultural Studies Program in the English department, visit the graduate program's website.
Lowe's talk is sponsored by the English department in the College of Arts and Sciences.