February 26, 2019
'Music of Strangers: Yo-Yo Ma and the Silk Road Ensemble' film screening at the Beach Museum of Art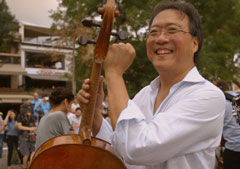 A showing of the documentary "Music of Strangers: Yo-Yo Ma and the Silk Road Ensemble" will take place at 5:30 p.m. Thursday, Feb. 28, at the Beach Museum of Art.
The documentary follows master cellist Yo-Yo Ma as he brings together musicians from cultures along the ancient Silk Road trade routes to share the music of their regions and inspire new artistic exchanges.
A discussion will follow the screening. Light refreshments will be provided.
The event is part of the Silk Road through Kansas program series.