February 13, 2019
Last day to register for Health Professions Summit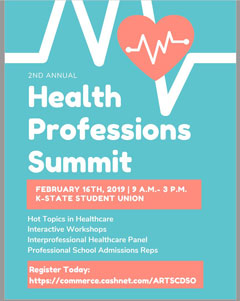 Registration for the Health Professions Summit will close at 11:59 p.m. Wednesday, Feb. 13.
The summit will take place from 9 a.m. to 3 p.m. Saturday, Feb. 16 at the K-State Student Union.
Please join us for a day of healthcare information sessions and visit with professional schools about applying to their programs.
Registration costs $15 and lunch is included. We hope to see you there.
The summit is sponsored by the Pre-Health Ambassadors, Med Missions and AED Pre-Health Honor Society.