January 15, 2019
Registration open for Center for Rural Enterprise Engagement's Insight Summit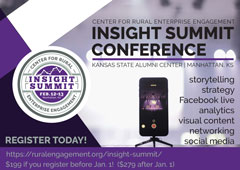 The Insight Summit, previously known as the New-Media Marketing Boot Camp, is the third annual conference hosted by K-State's Center for Rural Enterprise Engagement. This year's conference will take place Tuesday, Feb. 12, and Wednesday, Feb. 13, at the K-State Alumni Center.
The Insight Summit will be two days of the most cutting-edge new media marketing strategy, content and networking. It is a premiere, research-based workshop event designed for business owners, marketing and communication professionals, service organizations, and commodity or producer-advocate professionals.
The conference will have a greater emphasis on measuring and reporting impact using Facebook analytic data. Topics related to new media marketing will include storytelling across platforms, basic and advanced analytics, social media strategy, visual content, e-newsletters and selling online.
The 2019 Insight Summit keynote panel will feature three communication researchers to showcase the use of their research for small, rural businesses in TED Talk-style presentations. The conference will also highlight five graduate students and their research on new and online social media strategy and applicable uses in rural businesses and the agricultural industry in a poster session.
Registration is open and will remain open through day one of the conference, the rates are as follows: regular; $279; student, $99.
The Center for Rural Enterprise Engagement includes an interdisciplinary team that prides itself on being a generator and source of knowledge about new media marketing. They approach problems through the lens of their home disciplines of agricultural communication, horticulture and agricultural economics in a combined effort to enable rural and agriculture-based businesses to flourish in ever-changing environments while fostering positive changes to rural livelihood.
Visit the center's website to see the full conference schedule, or register online.
For more information, contact Mikhayla DeMott at newmedia@k-state.edu or 785-532-3504.