January 2, 2019
Siny Joseph recognized as Professor of the Week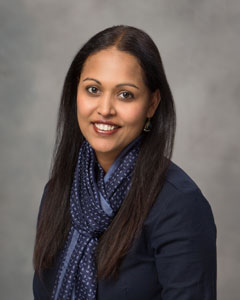 Siny Joseph, associate professor of economics in the School of Integrated Studies at Kansas State University's Polytechnic Campus, was named Professor of the Week.
Joseph was the winner of the 2018 Marchbanks Memorial Award for Teaching Excellence. It recognizes a faculty member's commitment in the classroom, service to students and overall merit as a teacher. As a teacher, Joseph said her goal is getting students to analyze situations and information, and communicate their insights better to meet emerging challenges of society. She said many real-life situations can be formulated as a problem to be solved by applying general principles learned in class. She credits her participation in the university's Peer Review of Teaching program in the early years of her career for helping her become a better teacher. The experience also led to Joseph and colleagues at Kansas State Polytechnic to develop a campuswide interdisciplinary teaching initiative called Quest, and to seek a Big 12 Faculty Fellowship to learn from successful faculty teaching exchange programs at other Big 12 institutions.
Born in southern India, Joseph grew up living and moving around every two years across multiple states in India because her father was an officer in the Indian army. She completed a bachelor's degree in engineering and master's in business administration in India. She also earned a master's degree and doctorate in resource economics from the University of Massachusetts, Amherst.
The Professor of the Week recognition is coordinated by Faculty Senate, the president's office, K-State Athletics and the Division of Communications and Marketing. Recipients are faculty members selected by Faculty Senate caucuses. Those selected are provided tickets to a men's home basketball game of their choosing and are recognized during halftime. This is just a small token of appreciation for those who teach at K-State.
Joseph was recognized at the Dec. 29 home game.