December 17, 2018
Charles Sanders recognized as Professor of the Week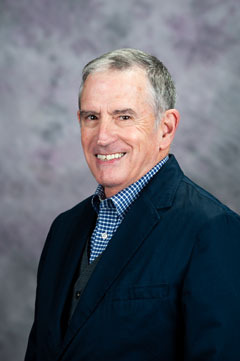 Charles Sanders, associate professor of history, has been named Professor of the Week.
Sanders is a past winner of the Stamey Award in Undergraduate Teaching. His academic specialty is 19th-century U.S. history, and he teaches courses on the Jacksonian Era, 19th-century America, the Civil War and Reconstruction, and Manifest Destiny and American Empire.
He also teaches the history department's Introductory and Advanced Seminars and the History of the United States to 1877. His first book, "While in the Hands of the Enemy: Military Prisons of the American Civil War," was awarded the Jefferson Davis Prize for New Scholarship in the Era of the Civil War.
The Professor of the Week recognition is coordinated by Faculty Senate, the president's office, K-State Athletics and the Division of Communications and Marketing. Recipients are faculty members selected by Faculty Senate caucuses. Those selected are provided tickets to a men's home basketball game of their choosing and are recognized during halftime. This is just a small token of appreciation for those who teach at K-State.
Sanders was recognized at the Dec. 15 home game.