A message to the family: K-State icon Pat Bosco to retire in 2019
Monday, Dec. 17, 2018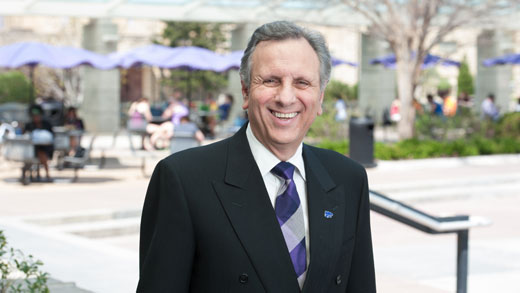 Read what K-Staters are saying about Pat Bosco.

Dear K-State Family:
It has been said with some degree of certainty that Vice President for Student Life and Dean of Students Pat Bosco has higher name recognition within the state of Kansas than all but one K-Stater (a certain football coach). Without question he has met more prospective college students and their parents than anyone in Kansas history.
Next summer, after five decades of dedicated service to Kansas State University, Bosco will retire. Bosco came to Kansas State University as an undergraduate from upstate New York, fell in love with the school and never left.
Today he is regarded as an icon and in 2004, the Student Governing Association named the plaza outside the K-State Student Union in his honor. It was the only time in the school's history that a person still employed at K-State received such recognition.
"Pat Bosco is known to many as the face of the university," President Richard Myers said. "He has encyclopedic knowledge of Kansas high schools and an amazing recall when it comes to current and former students. He is a shining example of how a life dedicated to service to others can transform thousands of lives."
Myers said the university is planning recognition events for Bosco in the spring semester to honor his lifetime of service to the university. Bosco will continue to play a role with the university after his official retirement in July, Myers added.
This dedication to his students and to his university has played an important part in making K-State the institution it is today. In former President Jon Wefald's book "The Transformative Years at Kansas State," he cites Bosco's problem-solving abilities and never give up attitude as key to growing enrollment from 16,500 students to over 20,000 students in just four years.
Under Bosco's leadership, K-State became the No. 1 choice for Kansas high school seniors and remains so today. He is a recognized national leader in student life, enrollment management and student affairs, with his expertise, knowledge and perspectives sought by state and national organizations. Many of the innovations he has introduced have become best practices in higher education. For example, he originated an admissions representatives program that became a model for universities throughout the country.
A true champion of diversity, Bosco has been responsible for recruiting record numbers of multicultural students to K-State. His passion for underrepresented populations reflects a deep belief in the transformative power of education to unlock a person's true potential.
Bosco was student body president and graduated in 1971 with a bachelor's degree in elementary education. As an undergraduate he joined Delta Sigma Phi fraternity, a connection he maintains today. After graduation, he immediately began his career as director of student activities and would go on to earn his master's in educational administration from K-State in 1973 and his doctorate in higher education from the University of Nebraska in 1982.
At K-State, Bosco has served under five presidents and held positions of associate vice president for institutional advancement/dean of students, assistant vice president for educational and student services, assistant dean of students and director of student activities.
Bosco originated the all-university open house concept and was one of three founders of the university's leadership studies program, which has become one of the largest and most distinguished such programs in the nation. Each year, the Staley School of Leadership Studies awards the Pat J. Bosco Outstanding Graduating Senior Award.
Similarly, the K-State women's basketball team each year presents the Pat J. Bosco Outstanding Student Athlete Award, and the university's Parents and Family Association has established a scholarship in his honor. Recently the K-State Marching Band came to his office to present him with the 2018 K-State Marching Band Lifetime Loyalty Award.
His dedication to students is legendary. Bosco's emphasis on putting students first ensures they have access to the tools they need to succeed at K-State, whether it be through our first-year experience program K-State First, scholarships and financial assistance, and services such as free tutoring, the Career Center, a food pantry and more. He has long served as an advisor to the student governing association and the Blue Key leadership honorary.
This dedication even extends to students' families with the creation of the K-State Parents and Family Association. Known for the words of wisdom he shares with students, parents and families each summer at orientation and enrollment, he is famous for providing his personal phone number to parents. His holistic view of family led to starting K-State childcare services and the development of the university's state-of-the-art Center for Child Development.
"It is difficult to fully express what Dr. Bosco has meant to our university and we look forward to celebrating his remarkable career," President Myers said. "In the coming semester, please take the opportunity to express thanks to Pat for his lifelong dedication and service to Kansas State University."
Read additional comments about Bosco below. Those who wish to submit comments can send them to vpcm@k-state.edu.
Messages from K-Staters


Amy Button Renz, '76, '86, president and CEO of the K-State Alumni Association:
"I have known Pat since my days as a K-State student. He has been a mentor to me and so many others for more than 45 years. The K-State Alumni Association has been fortunate to collaborate with Pat and the Office of Student Life through a variety of student recruitment events over the years. I don't know of another alumni association that has this type of partnership. K-State is a better university due to Pat's ability to personally connect with alumni and students. He is someone who sincerely relates to students and their family members. The foundation of his legacy is found in his personal touch and his advocacy for students and the programs and services that support them. Pat Bosco's impact will continue through future generations by the lives he has touched and will be a part of K-State forever."
Mary Vanier, '89, member of the KSU Foundation board of directors:
"While I'm so happy that Pat and his wife Susan will have the opportunity to enjoy his retirement, Kansas State will be losing an institution. Generations of K-Staters have benefited from Pat's passion for student success and his 'putting students first' mantra. When I was in school, in the mid to late 1980's, enrollment was around 13,000. University leadership turned Dr. Bosco loose on reversing this downward trend and enrollment grew to over 22,000, plus K-State became the No. 1 choice of Kansas high school seniors. Pat's leadership and dedication to our university is truly extraordinary."
Bernard Franklin, '76, '96, former student body president and former chair, Kansas Board of Regents
"When I think of social justice and someone who respects the dignity of everyone, I think of my special friend Pat Bosco. His tireless and relentless commitment to student success is unprecedented, not just at K-State, but in all of higher education. He is a legend, one of a kind and his purple pride will be greatly missed. I wish he and Susan the very best in the next chapter of their lives!"
Terry Matlack, '78, former student body president:
"Pat Bosco has been so important to Kansas State University since his leadership as student body president to the present. He, more than anyone I know, has devoted his life to the well-being of K-State, but especially students. He has been a mentor, coach, organizer, planner, trouble fixer, student advocate, recruiter, fan and counselor for Kansas State University his entire adult life. His energy, enthusiasm and follow-through have created amazing impacts with respect to the myriad of responsibilities he has had for the university. He totally loves K-State and has given it the full measure of his talents. It was always a good day when you got to spend it with Pat. I personally have been touched and helped so much by him — we will miss him so much."
Jordan Kiehl, senior, 2018-19 SGA president:
"There will never be words that can do justice to the impact Dr. Bosco has had on K-State. He gives his time as if it is an unlimited resource, especially in his service to students. Constantly going above and beyond, he has made his job his life's purpose, often meeting early in the morning offering invaluable guidance or staying on campus late into the evening to hear student concerns. And yet, he still finds time to volunteer at the campus food pantry. Putting students first is a common thread that runs throughout our university because of the legacy Dr. Bosco established. I will always be grateful for the opportunities I've had to learn from his leadership. To many, purple is just a color, but he has made that word a feeling of pride and loyalty among us all. Dr. Bosco has selflessly dedicated over 40 years to the K-State Family, and I wish him all the best as he can now spend much deserved time with his family.
Jack Ayres, '18, former SGA president:
"Dr. Bosco lives a life of service to others, reminding us all of the importance of making time for what matters. Students from across the state and country continue to be amazed when I tell them about the student-centered campus and community atmosphere that exists at K-State. Dr. Bosco is undoubtedly the pioneer of this great essence of our school! He has an innate ability to make everybody feel appreciated and like they belong here. I believe that is the reason why so many students are excited and proud to call our campus home. I am forever appreciative for all that Dr. Bosco has done for our school and for me, personally, and I wish him well in his retirement."
Greg Willems, president and CEO of the KSU Foundation:
"Nobody brings more energy, enthusiasm and passion to their work than Pat Bosco. His commitment to the well-being and success of students is legendary. Day and night, 365 days a year, Pat was only a phone call away to a student in need or a concerned parent — and always responded. For me, Pat Bosco helped define what makes this university and the K-State family so uniquely special."
Steve Lacy, '76, chairman of the KSU Foundation board of directors:
"Pat Bosco has devoted the majority of his life to the University and to helping many individual students. We owe him a tremendous vote of gratitude for his dedication and hard work."
Charles Taber, provost and executive vice president:
"In my short time at K-State, Dr. Pat Bosco has been a generous and invaluable partner. It has been incredibly valuable to get an introduction to the K-State Family from a true K-State legend, a man who is in many ways a keeper of our values. Thank you, Pat!"