December 6, 2018
K-State Economics Club tours Chicago, Milwaukee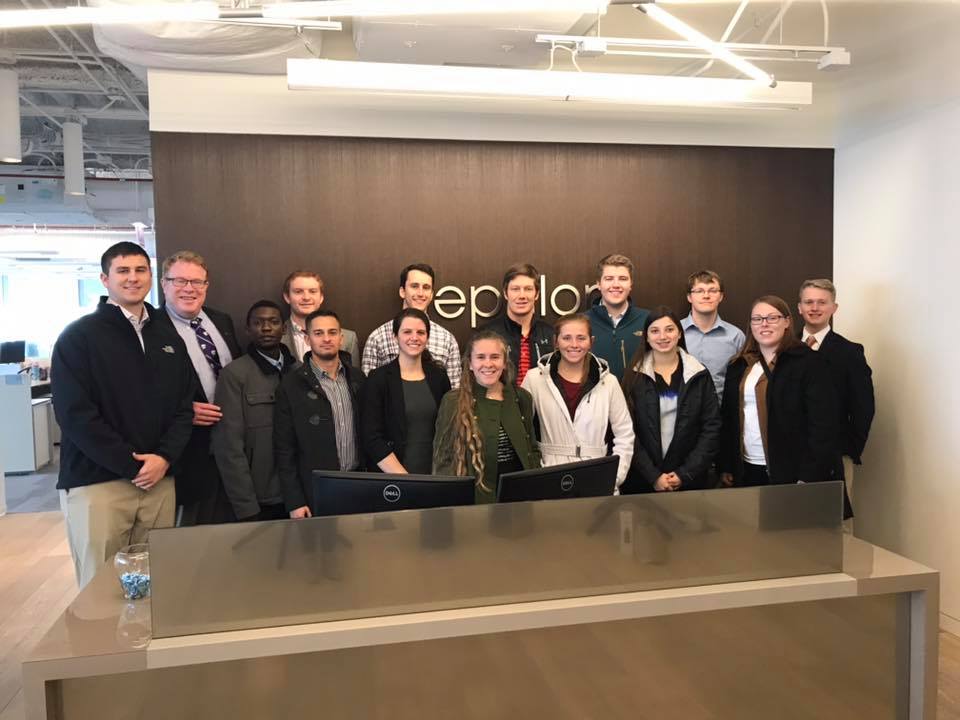 Twelve members of the K-State Economics Club and one faculty member visited with a variety of economists, researchers and business leaders on their recent annual field trip to Chicago and Milwaukee.
The club members visited IDEO, Epsilon Economics, the Applied Research Company and Navy Pier. They also visited the Milwaukee Bucks organization and were able to attend the K-State vs. Marquette basketball game on Dec. 1.
The trip allowed club members to participate in a research-gathering activity at IDEO; learn about consulting and litigation at Epsilon Economics; enjoy lunch at the Union League with several professional economists, options traders and regulators; and learn about the operation of McCormick Place and Navy Pier with the respective presidents of each organization. During the visit, representatives from the business analytics and basketball analytics side of the Milwaukee Bucks organization met with the club along with the senior coordinator of business strategy and organization.
"I could not be more pleased with how this trip came off," said Dan Kuester, faculty advisor to the club. "I want to thank everyone involved who were gracious enough to donate their time and efforts to interact with our students. It was really exciting to meet with a variety of business leaders with fascinating perspectives on the national and international economy at the Union League. I especially want to thank John Nelson of the Applied Research Company for putting that together."
"My favorite activity was probably interacting with Dean Malmgren at IDEO," said Haley Harrison, senior in economics and mathematics and former club president. "We had a lot of fun with the 'Hipster Classifier' activity, but we also learned a lot about setting up algorithms and logically solving problems."
"It's hard to identify my favorite activity from the trip," said Jacob Hubert, senior in economics and president of the club. "We met with economists doing serious research at Epsilon Economics and learning about the way the Bucks run their organization was really interesting, but I really liked hearing from Lori Healey at Navy Pier. It's pretty inspiring to talk to one of our econ alums who headed the Olympic bid for the city of Chicago."
The club members thank everyone involved with the Milwaukee Bucks organization for the opportunity to attend the K-State men's basketball game vs. Marquette. A special thanks to Brandon Blagg of the Milwaukee Bucks organization, who is a recent K-State economics alumnus.