November 20, 2018
Veterinary faculty cultivate research collaborations and information sharing in Paraguay and Argentina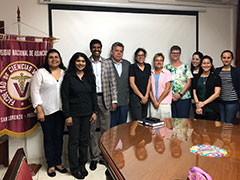 Veterinary experts at Kansas State University recently participated in projects in Paraguay and Argentina to initiate a three-way collaboration with two other universities toward the creation of a tick-borne disease research program; to present research updates at an international conference; and to promote a working relationship with a governmental agency in Paraguay.
"There are many new diseases in South America impacting the health of animals and people," said Roman Ganta, director of K-State's Center of Excellence for Vector-Borne Diseases, or CEVBD. "The spread of tick-borne and other vector-borne diseases are expanding their 'boundaries' in both North America and South America and in Central America."
Giselle Cino, a pathologist at the Kansas State Veterinary Diagnostic Laboratory, is helping facilitate the collaborative project through her connections in Paraguay. She earned her Doctor of Veterinary Medicine at the Faculty of Veterinary Medicine of the National University of Asunción, or FCV-UNA. Her message emphasizes the prevention of the spread of ticks in pets.
"The most dangerous outcome is when a single tick can carry more than one disease-causing agent, thus potentially infecting a wide range of animals, especially pets," Cino said.
Melinda Wilkerson, department chair for pathobiology at St. George's University, SGU, joined Ganta and Cino at the FCV-UNA main campus, in the city of San Lorenzo, Paraguay. Wilkerson was previously on the faculty at the K-State College of Veterinary Medicine.
Cino, Ganta and Wilkerson met with UNA administration and faculty. Further, the team gave research presentations on tick-borne diseases to the students and faculty at FCV-UNA. The team also discussed research collaborations at length with FCV-UNA and administrators. A three-university research collaboration to study ticks and tick-borne diseases of importance to agricultural and companion animals for South America, the Caribbean and the U.S. is already initiated. As part of this collaboration, efforts are also underway in student and faculty exchanges to promote strategic interests of the Center of Excellence for Vector-Borne Diseases at K-State, SGU and UNA.
Cino also visited SENACSA, a government institution in Paraguay, and met with its current president, José Carlos Martin Camperchioli. SENACSA is in charge of regulation, coordination and execution of guidelines for the health and well-being of livestock and companion animals, as well as the quality of animal produce. It is similar to the U.S. Department of Agriculture's Animal and Plant Health Inspection Service, or APHIS.
At the meeting with Martin, the researchers discussed potential opportunities for collaboration, projects and exchange programs among SENACSA veterinarians and K-State faculty. SENACSA currently has biosecurity level NSB3A-NB4OIE research space, so opportunities for training and collaboration in foreign animal and transboundary diseases were also discussed in the meeting.
Currently, Cino and Martin are working on establishing collaboration projects with USDA-APHIS in Plum Island.
"This opportunity opens the door to train more faculty and students at K-State and Paraguay into foreign animal diseases detection, diagnostics and biosecurity," Cino said.
The researchers also attended the International Congress on Tropical Veterinary Medicine, a conference held in Buenos Aires, Argentina, where Ganta was a plenary speaker and Wilkerson gave a presentation about research progress on collaboration between SGU and the CEVBD. Ganta's plenary presentation was titled, "Genetic system for creating targeted mutations in Ehrlichia chaffeensis and its application to study pathogenesis and vaccine development."
The Buenos Aires conference drew researchers from many countries and top universities and institutes from around the world and covered several topics of interest to the veterinary medical field, including vector-borne diseases and their vectors, chemotherapeutics and drug resistance, disease diagnostics and validation, immunology and immunity, one health topics related to human and animal health in various communities of the world and rural development, taxonomy and evolution, and training and capacity building.