November 9, 2018
Australian-American Fulbright Commission to receive International Innovative Education Program of the Year Award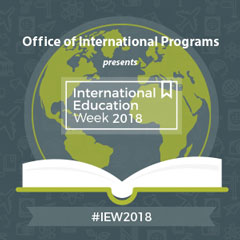 The Australian-American Fulbright Commission is the recipient of the 2018 International Innovative Education Program of the Year Award for the Oz to Oz Program.
The International Innovative Education Program of the Year Award was created in 2012 to recognize a successful collaborative partnership at the highest level by outside institute or organization with a university unit or department. The awardee is selected by the Office of International Programs leadership team.
"K-State faculty working through the Office of the President initiated the Australian Fulbright Distinguished Chair, Senior Scholar and the Oz to Oz programs and brought the association between K-State and the Commission to its commencement in 2012," said Grant Chapman, associate provost in the Office of International Programs. "Since then, this partnership has become widely recognized as a unique international educational opportunity available only at Kansas State University."
The Oz to Oz program brings all of the senior level Australian recipients of a Fulbright scholarship to K-State for seminars/meetings with K-State faculty and staff during their term as Fulbrighters in the U.S. The resulting relationships between K-State faculty and those at numerous Australian universities and research institutes have led the U.S. Embassy in Canberra and the Australian Embassy in Canberra to recognize K-State as the most engaged U.S. university in Australia.
"All of us at the commission are excited and grateful to learn of this award," said Thomas Dougherty, executive director of the Australian-American Fulbright Commission. "We thank everyone at K-State for the highly productive partnership that has benefitted so many Australian and American Fulbright Scholars. The commission is particularly pleased that President Myers and the commission this year extended the partnership for an additional five years."
"Such fabulous news and thanks a million for all your hard work, passion and diligence in working with me to initiate this partnership as we drafted our ideas on a paper napkin in a cafe one cold winter morning in Canberra in 2012," said Tangerine Holt, who was director of the commission when the program first began.
"As a fellow Fulbrighter myself, I am particularly happy about this award," Chapman said. "This award allows our office to publicly acknowledge the Australian-American Fulbright Commission for their efforts in developing and implementing this prestigious program at our university."
The 2018 International Innovative Education Program of the Year award will be celebrated during International Education Week. This week is a time to honor faculty, departments and organizations that are globally engaged within the K-State family, and coincides with nationwide celebrations of international education sponsored by the U.S. Department of Education and the U.S. Department of State.
Join Provost Charles Taber as he presents the International Education Awards at the 2018 International Education Awards Reception from 4:30-6 p.m. Thursday, Nov. 15, in the Regnier Forum and atrium at Regnier Hall.