October 17, 2018
A.Q. Miller School of Journalism and Mass Communications launches JMC Honors Program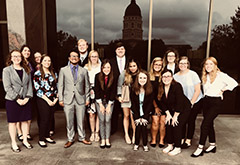 The A.Q. Miller School of Journalism and Mass Communications launched its Honors Program this fall. The JMC Honors Program is designed to give exceptional students advanced critical thinking, leadership and professional skills needed to excel in the 21st century workplace.
The program offers individualized faculty mentorship along with academic and experiential opportunities beyond the traditional collegiate experience.
The program was the initiative of Jean Folkerts, then-interim director of the A.Q. Miller School. It is funded entirely by private donors.
"The Honors Program will attract highly talented students to the A.Q. Miller School and will give students an opportunity to explore ideas with each other, to connect with alumni, and to be exposed to the many and varied career opportunities available to journalism and mass communication majors," Folkerts said.
A two-day inaugural Honors Program industry networking tour kicked off the semester. Students traveled to Topeka and Kansas City where they observed the Kansas Supreme Court in session and met with Justice Dan Biles, JMC alumnus, and Justice Marla Luckert. They then met with representatives of the FleishmanHillard Public Relations & Digital Marketing Agency to discuss the strategic communications industry. The next day, they toured Kauffman Stadium and met with Kansas City Royals broadcaster and JMC alumnus Steve Physioc to learn about sports information media. As part of the lunch meeting, they chatted with JMC alumna Adrianne DeWeese, development associate at Linda Hall Library. To finish the trip, they toured the Kansas City Star and attended a roundtable with nine Star employees, including Star publisher Tony Berg. The employees spoke with students about their commitment to their communities, their passion for journalism and advertising public service, and their advice on achieving a work/life balance in a 24/7 industry.
Participating on the trip were honors students Trace Salzbrenner, Rafael Garcia, DeAundra Allen, Devin Bratkiv, Hannah Sutherland, Lizzy Sutton, Abby Good, Bri Womack, Emily Willi, Hallie Everett, Michael Rencher, Julie Freijat and Morgan Ayres with academic advisors Kylie Kinley and Sarah Howe and JMC Honors Program director Bonnie Bressers.
The JMC Honors Program also hosted a "Big Bang Brunch" with visiting JMC alumna Gay Linvill, associate director of The Big Bang Theory, and honors students Oct. 2.
A barbecue for honors students and visiting JMC alumna Joan M. Barrett, vice president/general manager of Denver-based Tribune Media, Inc./KDVR & KWGN, will take place Oct. 22.
The A.Q. Miller School of Journalism and Mass Communications is part of K-State's College of Arts and Sciences.