October 4, 2018
Ping-Pong Tournament with a Twist!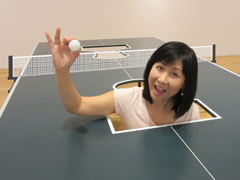 What was it like to live in China in the '60s and '70s? Play "Ping-Pong Mao" by Zhang Hongtu and find out.
The Beach Museum of Art will host "Ping-Pong Tournament with a Twist!" as part of the Art in Motion festival from 11 a.m. to 4 p.m. Saturday, Oct. 6.
To stay in the game, players must avoid letting the ball fall through cutouts in the shape of the head of Communist Party Chairman Mao Zedong.
The Ping-Pong table is part of the "Culture Mixmaster Zhang Hongtu" exhibition at the Beach Museum of Art.
To register, call the museum at 785-532-7718. The table is available for practice during museum hours. Participants can win a one-of-a-kind signed Ping-Pong paddle.
Art in Motion at the Beach Museum of Art is a free celebration of art for everyone. Join us to kick off the "Silk Road through Kansas" program series. The celebration on Oct. 6 also will include artist talks, interactive sensory stations, musical performances, hands-on art projects and more. The event is offered in conjunction with Harmony in the 'Hatt music festival organized by the Manhattan Nonviolence Initiative. The event is open to the public.