October 2, 2018
Confucius Institute hosts Chinese culinary culture events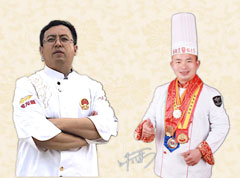 A series of Chinese culinary events hosted by the Confucius Institute in September gave participants a rare opportunity to try fine, authentic Chinese food and experience China's culinary culture.
The events were made possible by two nationally certified master chefs from China, Yu Yongbin and Ye Yuanlin, who were visiting K-State as part of the Confucius Institute Headquarters' Chinese culinary culture tour. They prepared dishes for a number of luncheons and dinners. Because both of them are from China's coastal provinces, their dishes tend to feature seafood. One traditional Chinese dish they offered is called fo tiao qiang, or Buddha jumping over the wall. This Chinese delicacy known for its rich taste was first created during China's Qing Dynasty (1644-1912).
The Confucius Institute arranged a number of activities for K-State students and the community to benefit from the chefs' visit. The chefs hosted culinary sessions with students in K-State's hospitality management department and the Manhattan High School culinary club. They also taught a Chinese cuisine workshop for a community group in Wichita.
Both chefs hold multiple professional positions in China and run their own businesses, but they have also been ambassadors of China's world famous cuisine. They have visited a number of countries to showcase the Chinese culinary culture. Last year, they participated in a number of Chinese cuisine appreciation events at the United Nations in New York and in Washington D.C.